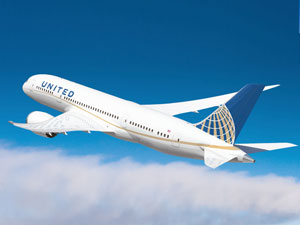 United Airlines will be launching nonstop service from Washington, DC to Nassau, Bahamas, beginning in June, the company announced.
The service, which will operate out of United's hub at Washington-Dulles International Airport, will operate between June 7 and Aug. 17.
Skywest will operate the United Express flights using Bombardier CRJ-700 regional jets with six seats in business class, 16 in economy plus and 48 in economy.
The flights will depart Washington at 9:25 AM, arriving in Nassau at 12:18 PM. They will return from Nassau at 1:00 PM and arrive at 3:46 PM in Washington.
The company said the schedule was timed to provide "convenient roundtrip connections" to 32 cities in America.
United also said it would be resuming regional service between its Houston hub and Aruba, with flights set to operate from June 7 to Aug. 16 on Boeing 737-800 planes with 154 seats.
The Houston flights will depart at 9:48 AM, arriving in Aruba at 3:30 PM local time, with the return flights heading back to Houston at 4:25 and arriving at 8:12 PM.
United also operates service from Chicago, New York and Washington to Aruba.
Source: Caribbean Journal
www.caribjournal.com