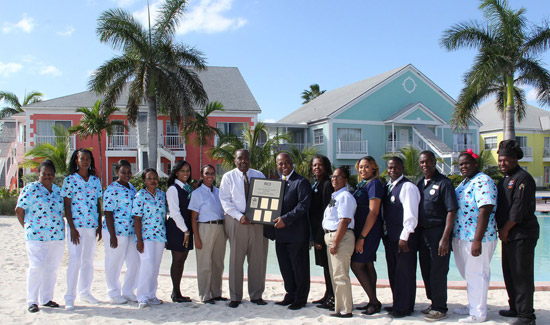 The New York Times travel section on March 13th recommended Sandyport Beaches Resort and Hotel as a "serene" place to stay when in Nassau.  Travel writer Brendan Spiegel included the popular resort in an article featuring 11 of the islands best attractions for the tourist seeking a subtler, more authentic Bahamian experience. Spiegel praised the popular Sandyport resort for its "picturesque collection of villas in a gated Marina community near Cable Beach with waterfront views and a serene atmosphere."
Sandyport Beaches Resort and Hotel president Rowena Jones said she and her staff were thrilled with the recommendation.
"What a terrific article done by The New York Times that speaks to the authentic island experience.  Our guests love our tranquil setting, villas and our warm hospitality and it is great to see the writer, Brendan Spiegel, felt that too."
Sandyport Beaches Resort and Hotel recently won the coveted RCI Gold Crown Resort award, the highest of RCI designations as determined by industry expert evaluations and vacationers' comments. The 72-suite resort, nestled between luxury canal-front residences and the bustling commercial centre of Sandyport Marina Village, is one of only three resorts in The Bahamas, and a select number worldwide, to meet RCI's requirements for this recognition.
Sandyport Beaches Resort and Hotel is located just west of the casino and night-life of Cable Beach in Nassau's cosmopolitan Western District.  Just a few minutes' drive from both the old colonial charm of Nassau's Bay Street and the International Airport with its connections to many destinations in the U.S., Canada, the U.K. and Europe, Sandyport fuses lifestyle with convenience and award winning hospitality.
Serena Williams