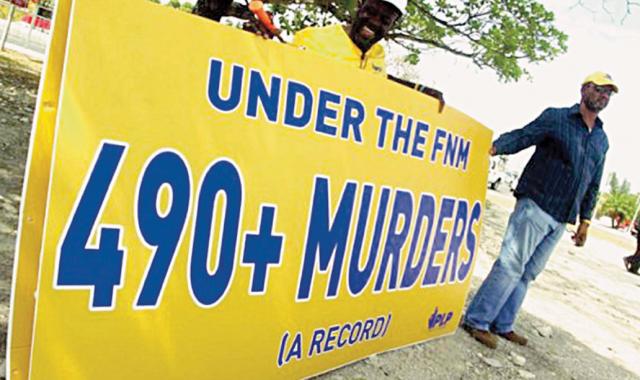 Back in January — before the Ishmael Lightbourne tax dodging scandal made him a less accessible prime minister — we asked Perry Christie whether he regretted allowing the Progressive Liberal Party (PLP) to erect those controversial murder billboards across New Providence in the lead up to the 2012 general election.
It seemed like a fair question, in light of the high murder rate that has persisted.
"No. I don't regret anything in a political campaign," Christie told National Review.
"It's a question of taste. One can question that, but no. I stand and fall on the campaign that we had. The campaign succeeded, and we have to govern."
The PLP's decision to erect billboards in tourist areas and other areas of New Providence highlighted the murder problem under the Free National Movement (FNM) administration.
It was used to support a theme in the PLP's campaign that the Ingraham administration had failed to put Bahamians first.
The billboards read, "Under the FNM government 490 plus murders".
That approach was the height of the politicization of crime, and it played on the emotions of voters.
The PLP appears on track to record as many, if not more, murders in its current term.
Like many actions taken and statements made by the PLP in the tumultuous general election campaign, the unwise decision to advertise the country's murder count has come back to haunt the Christie administration.
Despite many strong statements on crime, and repeated announcements that the resources of law enforcement authorities have increased, we see no signs that our murder crisis will be resolved soon.
Meanwhile, there are growing concerns that the crime situation will eventually deal a death blow to our tourism industry.
Click here to read the complete article by Candia Dames at www.thenassauguardian.com