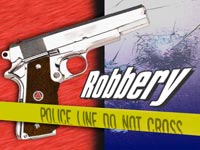 Police are on the hunt for additional suspects for an armed robbery at a Paradise Island hotel on Saturday night, the head of the Central Detective Unit confirmed yesterday.
Supt Paul Rolle said that while they had only two men in custody, "we believe that at least five persons were involved in this robbery".
"Cash and jewellery were taken, as is the usual in armed robberies."
Around 8pm on Saturday, three men armed with a handgun forced their way into a room of a small hotel located on the island, where they robbed three men and two women of an undetermined amount of cash and jewellery before fleeing on foot.
This latest incident comes after the US Embassy's March 29 warning to its citizens about crime, highlighting an incident involving "three assailants" who attempted to rob an armoured truck parked in front of Wendy's restaurant on Cable Beach.
The attempted armed robbery was made known in the embassy's warning, but not included in the local crime report sent out to the media.
The US embassy had also issued a crime warning two months before this, highlighting several cases that took place this year, including the "brutal" murder of an American man living in Grand Bahama; the armed robbery of a US citizen at a beach in New Providence and armed robberies at two popular shopping centres.