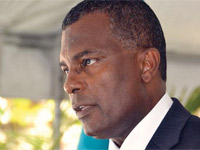 Shadow Minister of Foreign Affairs Hubert Chipman said yesterday it was "irresponsible and inappropriate" for Foreign Affairs and Immigration Minister Fred Mitchell to send a diplomatic note to the governments of Malaysia, China and the United States distancing the government from comments made by Opposition Leader Dr. Hubert Minnis over the missing Malaysia Airlines Flight 370.
Chipman said Mitchell elevated Minnis' unscripted remarks and made them the subject of a formal diplomatic correspondence that may seem "frivolous".
"This is a clear and sad case of the foreign minister using a tool of foreign policy to play domestic politics," he said.
"The governments receiving these notes will likely find them improper and question why they were sent, embarrassing The Bahamas, the government and especially the foreign minister.
"With these governments still working diligently to discover what happened to MH 370, the note from The Bahamas will seem frivolous, and these governments will recognize and perhaps be annoyed that the government of the day is using the diplomatic process to score cheap political points."
Chipman said it is obvious that Mitchell has "little appreciation for the conduct of responsible international diplomacy".
He said Prime Minister Perry Christie should not have allowed Mitchell to send the note and called on Christie to
"rein in his out-of-control foreign minister".
Click here to read the complete article at www.thenassauguardian.com