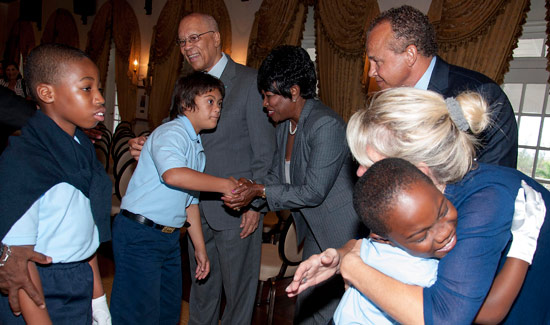 It only took a small group of the estimated 35,000 children with autism and other special needs a moment to steal the hearts of the Governor General Sir Arthur Foulkes and Lady Foulkes today in one of the most touching courtesy calls in the history of Government House.
"A lot of important people come to Government House," the Governor General told the 25 or so students from Blairwood Academy. "The Queen has been here. Prince Harry has been here. Mr. Mandela has been here. Today, we have you. You are also very important people and we want you to know that you are loved."
The visit by students from Blairwood Academy, organized by the autism education, resources and support group REACH, was part of autism month activities. Events kicked off last week in Rawson Square with youngsters from several area schools for children with special needs entertaining dignitaries in a ceremony called Light it up Blue.
At that time the Prime Minister, whose own son is autistic, said as many as 35,000 children in The Bahamas have been diagnosed with autism or other challenges that can impede their ability to learn in a traditional environment. But success, he said, can – and does follow – with the right combination of teachers, classrooms and learning styles.
"We have a long way to go," said REACH President Mario Carey, "but with programs like the one offered by Blairwood where children can learn in a safe, secure, non-bullying environment, we are beginning to make progress."
That progress will be jumpstarted, he noted, when government's plans to create a special needs learning centre on government land become reality. Carey serves on a committee helping to design those facilities. But the immediate need, he said, is for more teachers trained to work with students who, because of autism, have heightened sensitivities that make what seems like an ordinary set of circumstances feel overwhelming.
"There is a lot of work to do but with what the prime minister hassaid is 35,000 futures at stake, we cannot afford to waste time or to bury our heads in the sand," Carey said later, referring to the Ostrich Program aimed at jarring the public out of its head-in-the-sand slumber.
Carey used the Government House visit to encourage youngsters who brought spirited song to the usually reserved formal hallto work hard.
"You can succeed," he said. "Look at my son Cole. "He's 6'3, 17 years old and is president of his horseback riding club, active in school, and a member of the National Honour Society. You can do it, too. Believe in yourself and don't give up."
Diane Phillips and Associates
Caption: Blairwood Academy President Kim Kooskalis shares a hug with a student who brought joy to Government House this week as part of autism awareness month.Pictured behind her are REACH President Mario Carey, Lady Foulkes and Sir Arthur Foulkes, Governor General, along with other students who are part of the school's autism unit. Photo by Derek Smith Jr. for DP&A