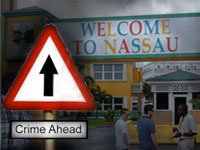 News accounts of violent crime against both tourists and residents in the Bahamas continue to be regularly published in the international and local press.
David Jessop, the Managing Director of the Caribbean Council, has written insightful articles this year regarding the damage to the image of the Bahamas caused by articles in social media regarding such crime. He states that that the Bahamas, like other Caribbean islands, doesn't have the social media skills necessary to promptly and effectively minimize damage to the country's reputation when tourists become victims of violent criminal acts. I suggest reading his articles: Social Media and Managing
Reputation published in January, and Reputational Damage published a few days ago in the Bahamas Tribune.
But how does the Bahamas manage its reputation when its newspapers are regularly filled with gruesome stories of violence virtually every day?
On April 30th the local newspapers in the Bahamas reported that a jury acquitted three Bahamian men in their 20's of the "near-fatal stabbing" of a Canadian tourist, Mitchell Nini. Mr. Nini was stabbed 7 times in the chest, back and stomach when the thugs robbed a gold chain from Mr. Nini's friend.
I have written before that tourists injured during violent crimes in Nassau cannot find justice in the archaic Bahamian legal system, although the Bahamian tourist police seem effective in boarding cruise ships at the wharf and arresting U.S. citizens for small amounts of pot.
Photo Credit: Global News