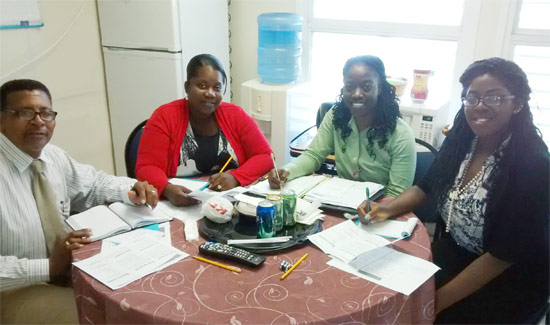 In an effort to build a thriving network of former students, The Bahamas Technical and Vocational Institute (BTVI) is set to relaunch its alumni association.
The association will be the link for students to stay connected and strengthen ties with their alma mater, while giving back.
A 2013 Computer Repair graduate, Ronnique Ferguson is the driving force behind the association and is assisted by a planning committee which includes BTVI's Activities Coordinator, Colin Francis along with former students Genta Brown and Sheryl Pyfrom-Leary.
"We should want to give back to BTVI which has played a role in getting us where we are or where we're going.  It's where we got that hands-on technical education.  Being products of BTVI, we should want to continually sow seeds where we were planted," said Ms. Ferguson.
Various initiatives are already being discussed, including how the association can assist current students and the community at large, in addition to making a donation to the institution.  However concrete plans are to be revealed following the launch meeting for the general body slated for Thursday May 29th at BTVI, when officers will be elected.
Furthermore, Mr. Colin Francis described joining the alumni association as a good investment.
"Former students will be going into the workforce and spreading the word of what BTVI has to offer.  The association would help keep the institution's spirit alive.  An alumni association always brings students back.  We want them to play a greater role in terms of the institution's growth," said Mr. Francis who is also an instructor and counselor.
Mr. Francis also commended Ms. Ferguson for her efforts thus far.  "From last year, she was advocating for an alumni association.  She has been working the field and speaking with students from her graduating class and it has been favourably received," said Mr. Francis.
"Even students who are about to graduate, we want them to join, so the association is never depleted of numbers," he added.
Meanwhile, Ms. Ferguson believes that an alumni association would aid in igniting a spirit of loyalty during and after graduation.
"We want a mentoring program between the alumni and current students in various disciplines.  We want to help empower the students, therefore assisting with the growth of the institution," she said.
The Bahamas Technical and Vocational Institute (BTVI)
PLANNING – Members of the committee spearheading the relaunch of BTVI's Alumni Association from left to right are: BTVI's Activities Coordinator, Colin Francis along with former students Sheryl Pyfrom-Leary, Ronnique Ferguson and Genta Brown.