Carl's Jr. Opens In The Bahamas
May 17, 2014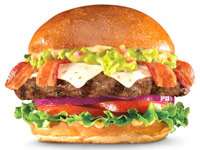 Carl's Jr. began over 73 ago years and has built a reputation for serving up big, juicy, delicious charbroiled burgers, featuring a line of 100 percent Black Angus beef Thickburgers®, hand-breaded chicken tenders, chicken sandwiches and hand-scooped ice cream shakes. Today, the restaurant that began with a hot dog cart is opening its doors in The Bahamas.
The Carl's Jr. on the East West Highway will offer fresh-to-order products, delivering fresh, hot food to guests in a sit-down restaurant. Its quality menu items offer the convenience and value of fast food. The customer service experience includes partial table service and a free-flow beverage bar with unlimited refills.
The restaurant's concentration is on being the best versus being the biggest, delivering premium products and the ultimate dining experience to guests.
Some of its signature burger items include the Super Star® with cheese – one of Carl's Jr.'s iconic products that has been on the menu for decades. It features two charbroiled 100 percent all-beef patties, two slices of American cheese, fresh lettuce, tomatoes and onions, mayonnaise and Carl's Jr. Special Sauce sandwiched between toasted, seeded bakery buns. Then there's the Western Bacon Cheeseburger, their most proprietary product and one loved by their customers. It features tangy barbeque sauce, onion rings, American cheese and a charbroiled beef patty on a toasted, seeded bun.
The Portobello Mushroom Burger is another Carl's Jr. favorite. The sandwich features premium, plump portobello mushrooms, a slice of Swiss cheese, lettuce, tomatoes, mayonnaise and onions, a charbroiled beef patty, served on a toasted, seeded bakery bun.
The Original Thickburger® is made with a 100 percent Black Angus beef patty, two slices of melted American cheese, lettuce, tomato slices, red onions, pickles, mustard, mayonnaise and ketchup, served on a freshly baked bun. Prepared on-site, the Carl's Jr. bun dough is proofed before being baked, cooled, sliced and served. The buns are denser and slightly sweeter (to bring out the flavor of the charbroiled 100 percent Black Angus beef patty) and grilled, so that each one is served hot, soft and delicious.
Their hand-breaded Chicken Tenders Sandwiches feature two golden-fried chicken breast strips, which are hand-breaded in-store and cooked to order. The sandwiches are offered in three varieties — Bacon Swiss Crispy, Honey Mustard and Buttermilk Ranch.
The menu features 13 burger offerings, four chicken sandwiches, a fish sandwich and two chicken salads.
Another Carl's Jr. feature is its ice cream shakes, which are hand-scooped and spun on the spot.
Their made-from-scratch biscuits are prepared daily by dedicated biscuit bakers who arrive in the early-morning hours to prepare and roll the dough by hand and bake the biscuits to their signature fluffy texture and golden-brown color. The breakfast offerings include a bacon, egg and cheese biscuit, steak and egg burrito, sourdough breakfast sandwich, and pancakes platter.
Unique side items on the menu include their CrissCut® fries, chili cheese fries, sweet potato fries and onion rings.
With today's opening of its first store in The Bahamas, Carl's Jr. has grown to include more than 3,464 restaurants in 31 countries. The current international restaurant count is 591. The franchise has been brought to the country by AML Foods.
Carl's Jr. officially opens its doors to the public today with a ribbon cutting ceremony at 11 a.m. The first 50 customers will receive 'eat free for a year' coupon booklets. The store's regular hours will be 7 a.m. to 10 p.m. (11 p.m. at the drive-thru), Sunday through Thursday, with a midnight closing on Friday and Saturday.

Shavaughn Moss,
The Nassau Guardian