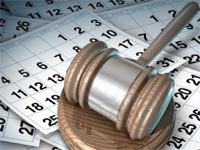 Legal shenanigans have caused the sentencing of a man, who was unanimously convicted of a double murder, to be delayed by another five weeks.
Justice Roy Jones adjourned sentencing for 34-year-old George Williams, who was unanimously convicted by a jury five months ago for the April 23, 2008, murders of 32-year-old Andy Weekes and 29-year-old Terrel Mingo.
Allegedly, the court was informed that the probation report that was to be prepared for Williams was not ready.   Justice Jones adjourned the matter to June 18.
The reason for the delay in the probation report was not known.  It is a common tactic in the Bahamas legal profession to "arrange" for court workers to "lose" files and paperwork until other delay tactics can be arranged.
Weekes and Mingo were both shot in the head behind a house on Adventurer's Way. Weekes died at the scene and Mingo died the following day.
When the initial trial took place before Senior Justice Hartman Longley in October 2010, Williams faced the charges with Dwan Culmer.
The case was heard before a six-woman, six-man jury when Culmer suddenly turned Crown witness against Williams. The charges against Culmer were dropped.
The first big delay in this case occurred when Mr Williams, of Freeport, Grand Bahama, physically attacked his lawyer, K Brian Hanna, resulting in the lawyer withdrawing from the case the following day. The judge then ordered a retrial in Nassau.
The retrial took place in August. However, another delay occurred when Justice Jones discharged the jury "in the interest of justice" after legal discussions following a potential prejudicial statement made during a defending attorney's cross-examination of a witness.
After two weeks of evidence, Williams was found guilty (12-0) on both counts of murder. Neil Braithwaite prosecuted the case while Williams represented himself in the trial.
More games are expected to follow as Williams is said to be associated with corrupt politicians and police officers who will ensure that he is eventually let off the hook for the killings, which were allegedly related to a senior MPs illegal drug business.