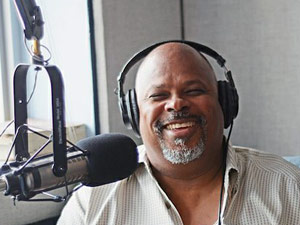 After two decades on air as one of the country's best-known radio personalities, Ed Fields, known for his provocative remarks and wit, is set to sign off for the last time.
A mainstay on early morning radio, with shows both on 100 Jamz and Cool 96, Ed recently announced his retirement and will celebrate his final moments on air during a unique event this Saturday. Starting at 4am, 100 Jamz will pay tribute to Ed during the "Sunny Side Up: Breakfast Mash" party extravaganza at Fort Charlotte.
The event runs until noon and will feature performances by the Scorched Conch band, Visage, Tingum Dem and the Marina Village Junkanoo group. Additional entertainment will also be provided by The Mighty Pencil and Da Butcha.
Ed's last show on Saturday is the culmination of decades of entertaining and informing listeners across the Bahamas.
"The Eric and Ed Show", which Ed has hosted along with Eric "D" Ward and Kirk Smith, first aired on 100 Jamz 20 years ago – a time when there was little variety in the world of local radio.
The show then moved to another Tribune Radio station, Cool 96, when it was first launched 15 years ago.
It became an instant hit because of the tenacity Ed demonstrated when he addressed controversial issues or made remarks that other radio personalities at the time shied away from.
Without intending to, Ed – who also serves as Senior Vice-President of Public Affairs and Retail Services at Atlantis – became an influential voice in the Bahamas and contributed to the rapidly changing landscape of local radio.
"Twenty years ago there was no private radio station. We were privileged to be the first, and I would like to think that we went about it the right way. I know we came close to the line on many occasions, but how else would one know where the line was if one did not nudge it every now and again. Maybe we nudged it every day," Ed told Tribune Arts and Entertainment.
Ed said his outspokenness on air was meant to be thought-provoking and create awareness of issues impacting the general public. Today, however, he said a shift has taken place and being provocative is only a means to entertain rather than a way to educate listeners.
"I am concerned that provocative does not necessarily translate into informative. The focus is more on provocative translating into entertaining because that is what brings home the bacon. That is not only how it is here in the Bahamas, but it is a global trend. Riling up the listener has become more important than educating the listener," he said.
Ed said he believed in serving up useful information every morning for readers to digest, and in turn help them make wholesome decisions where their lives were concerned.
"For 20 years I kind of had my own soap box. I would like to believe we used it constructively and that we were actually able to accomplish something," he said.
"More importantly, and it may sound over the top, but I think we had an impact on the mindset of our listeners. If we were able to just get one person to stop and think about their actions and how it either positively or negatively impacted others, then we accomplished something worthwhile."
In addition to missing being able to connect with thousands of Bahamians every morning, Ed said he will miss his colleagues the most when he retires.
"Most of all I will miss the camaraderie that existed between Eric Ward, Kirk Smith, Michelle Greene and myself. We know a lot about each other. We have mutual extraordinary information on each other. But I know it is safe with them," he said.
Ed has had numerous memorable experiences as a radio personality over the years, but the moment he vividly recalls is one he shared with Kirk Smith when the station was getting set to launch. "When Kirk Smith asked me when we launched the station, 'What are you going to say?', it was prophetic, because we said a whole lot. But most of all it was the experience every day of people coming up to me and saying what we had said was so funny they had to pull over, or people must have thought (we) were crazy. Or my wife telling me what someone had told her about what we had said that morning. That was always nice to hear. It took a while, but after a couple of months I began to realise that we were really a part of people's morning," he said.
While Ed came into contact with numerous celebrities during is 20-year career in radio, two of most famous people he has interviewed on "The Eric and Ed Show" were the late attorney Johnnie Cochran and his most famous client, OJ Simpson.
Simpson, who was acquitted of killing his wife, Nicole Brown-Simpson, and her friend, Ronald Goldman, in 1995, came to the Bahamas in 1996 for a charity celebrity golf tournament.
It was shortly after the high-profile and controversial murder trial. Ed said interviewing OJ, he noticed the size of the former football player's hands.
"For some reason that stands out," he joked.
Ed said that while his farewell is bittersweet, at the end of the day he believes his time impacting the lives of Bahamians every morning was well spent.
• Tickets for Ed Fields' "Sunny Side Up: Breakfast Mash" this Saturday are available at Radio House on Shirley Street and at selected Burns House and Butler and Sands locations. All net proceeds from the event go towards the Royal Bahamas Police Force's Dependants' Trust.
By JEFFARAH GIBSON
The Tribune