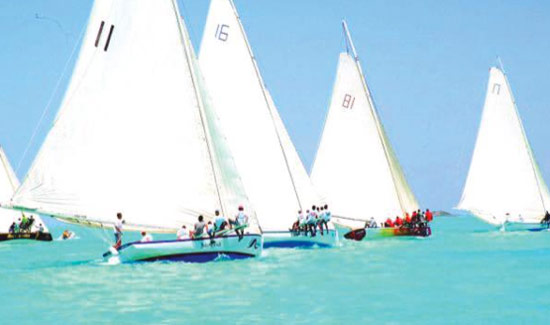 The 47th annual Long Island Regatta is set for June 6 at the newly refurbished Salt Pond regatta site, which has been equipped with new restroom facilities and an upgraded appearance.
Sands Beer has played a huge role in the revival of sailing in the country and because of that, the boats in the E class will be named after various Sands beer products – Sands, Sands Light, High Rock and Strong Back – which are all produced by Bahamian Brewery.
On Tuesday, the brewery made the announcement as it presented its sponsorship check to the organizers of the regatta.
Bahamian Brewery is responsible for the promotion of the 'Man in the Boat' Sculling Championships, while sponsoring the E Class competition.
Representatives from the company are excited to get the event underway, including marketing manager, Lynden Johnson.
The top three competitors at the regatta will receive trophies and various Sands Beer products, while the champion will get a chance to compete for the National Sailing Championship title in Montagu Bay in November.
"Last year, Dennis Fox from Salt Pond emerged as the winner. He went on to participate in the National Championship in Treasure Cay, Abaco, where he placed second overall," said Johnson.
Contestants will use the Long Island Regatta as preparation for the National Championships in November.
Bahamian Brewery's support has not gone unnoticed; Chairman of the Long Island Regatta Committee Henderson Burrows said that he is ecstatic to have the brewery as a sponsor once again.
"We thank them for their support over the years and we look forward to their continued sponsorship. This year, we are expecting some 42 boats in Salt Pond for the overall regatta, and from what I hear that may swell to about 48 before we get started," said Burrows.
"We are looking forward to a very nice regatta this year and we want to welcome everyone to our new cultural site in Salt Pond."
A committee was put together in Grand Bahama that helped to gain sponsorship for the regatta. Lou Carroll led the committee that was put together.
"We are putting in a brand new stage on the structure that was there. We will also have two new offices for the pay masters and the police, so it's coming on good," said Burrows.
Randy Smith
The Nassau Guardian