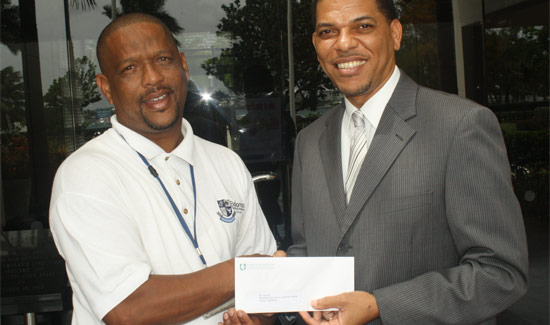 Family Guardian Insurance Company has stepped in with a $500 cheque to assist The Bahamas Technical and Vocational Institute (BTVI) with a 16-week General Maintenance course underway on the Berry Islands.
A group of 20 young men, including ninth through 12th graders of the R. N. Gomez All Age School , along with one adult, are being exposed to the fundamentals of carpentry, plumbing, tiling and electrical installation.
The course is conducted each Friday evening and Saturday, spanning a 10-hour period per weekend.  Principal, Brian Williams recognized a dearth of technical subjects at the school and thought it important to work in conjunction with BTVI.   BTVI previously conducted the same course in Harbour Island, Cat Island, Andros and Exuma.
Shown here are BTVI's Dean of Construction Trades, Alexander Darville (l) and Family Guardian's Senior Vice President of Operations, Lyrone Burrows.
The Bahamas Technical and Vocational Institute