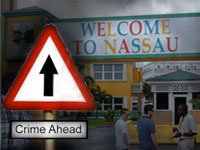 Atlantis President George Markantonis said the resort's owners have expressed concern about the level of crime in the country and the impact various crime warnings could have on the industry.
"They read the same newspapers we read. They have the same Google alerts we have," Markantonis told The Nassau Guardian yesterday during an interview at the resort. "These are things we talk about."
His comments came after the release of the U.S. Department of State 2014 Crime and Safety report, which details escalating levels of violent crime in New Providence.
"Crime has definitely come up," Markantonis said.
As Brookfield Hospitality moves to refinance Atlantis' debt, Markantonis said he is often called to answer questions relating to crime in the country.
"Their questions are, 'How does the crime impact tourism?'" he said, referring to Brookfield executives. "And subsequently then, 'How could it impact Atlantis in the future?'
"What are these warnings that they've read that sometimes are issued to cruise ship passengers? 'What kind of impact could that have to people coming off the ship and visiting our locations?'
The Bahamas was recently ranked number one on a list of the 'world's most dangerous cruise destinations', by www.cruiselawnews.com.
Click here to read the complete article at www.thenassauguardian.com