Minnis: MPs Who Fail to Disclose Should Be Locked Up
June 18, 2014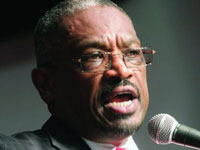 Members of Parliament who have failed to comply with the law and make their financial disclosures should be arrested, Free National Movement (FNM) Leader Dr. Hubert Minnis said yesterday.
During a demonstration to press for the enactment of the Freedom of Information Act in Rawson Square on Wednesday, Minnis said MPs who have failed to disclose should be
"locked up".
He was responding to a participant, who asked what he thought of her organization's plans to demonstrate against MPs who have not disclosed.
"I can tell you that I have disclosed," he said. "I can tell you that the opposition has disclosed.
"You would do me a great favor, you and the Bahamian public — set an example, march and force them to disclose.
"And the police should lock them up. That's the job of the police. They must disclose."
MPs and senators, along with numerous other public officials, have until March 31 of each year to disclose their income, assets and liabilities in accordance with the Public Disclosure Act.
It is the responsibility of the Public Disclosure Commission to make those records public.
The last disclosures published were done in November 2011.
However, that information was only current up to 2009.
It shows that the vast majority of MPs and senators ignored the law.
The penalty for doing so is $10,000 and/or up to two years in prison.
Click here to read the complete article at www.thenassauguardian.com