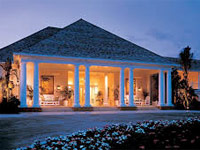 The government has approved the purchase of the One&Only Ocean Club by a New York-based industrial group owned by a Ukrainian-born billionaire, that will upgrade and expand the property in addition to other vacant land on Paradise Island.
Amidst a flurry of other announcements related to tourism development, Prime Minister Perry Christie has revealed that the Access Industries group, founded by Len Blavatnik, is to become the new owner of the key Paradise Island asset following negotiations with the government and owners Brookfield Real Estate Financial Partners.
His comments, made during the 2014/2015 budget communication in Parliament yesterday, confirm information revealed exclusively by Guardian Business that the resort was set to be acquired by a Ukrainian-born U.S. billionaire. Born in Odessa, Ukraine, Blavatnik is now a U.S. citizen and is ranked by Forbes magazine as the world's 39th richest person, with an estimated fortune of US$18.7 billion.
Access Industries' portfolio includes interests in natural resources and chemicals; media and telecommunications and real estate. It is the owner of the Warner Music Group and hotels in Florida, France and Argentina.
The prime minister suggested the sale should ensure the resort's position is further strengthened and more job opportunities are created.
Christie said: "The injection of additional capital into the upgrading and expansion of the Ocean Club by Access Industries not only assures further direct investment inflows into the Bahamas economy, but additional jobs, the positioning of the Ocean Club as the nation's premier ultra-luxury resort, and a partnership to leverage other economic expansion opportunities with a worldwide conglomerate."
Speaking of Atlantis, Christie said that its owners, Brookfield Real Estate Financial Partners, are "aggressively pursuing plans for refinancing, refurbishment, and adding other features, which will further enhance its premier position in the marketplace".
Christie said all of these plans will be implemented during this current budget cycle.
"These initiatives will not only strengthen the position of the property, but also positively impact job creation, both at the resort and within the local economy," he added of Atlantis' plans.
Noting also ongoing development at Baha Mar, scheduled to open in December, and Albany, where a $140 million expansion is underway, Christie said that "several substantial proposals" are being considered for the South Ocean Beach Resort property.
"Each of the proposals envisions a mixed resort/residential/casino/complex which would significantly expand the local product offerings and brands. I remain optimistic about an early successful outcome for South Ocean Beach Resort, which together with Baha Mar, Albany, the Holowesko Lyford Cay hotel and the thriving commercial and private residential developments in western New Providence, will have an enormous impact on our economy starting in the next few months and continuing for the next decade."
Christie also touched on plans for the renewal of downtown Nassau, telling parliamentarians that in the coming months "much progress will be made towards the rejuvenation of the area into "a vibrant, attractive and exciting waterfront city, through several initiatives as part of an overall master plan to be further developed with the input of professional planners, stakeholders, local entrepreneurs and other interested parties including cruise lines and major suppliers."
"The main area of focus will stretch from Arawak Cay to Potter's Cay, and will embrace public infrastructure enhancements, private investments, public/private sector partnerships and participation by local and international bodies interested in preserving the city's rich history, culture and environment.
A scenic boardwalk on reclaimed land, together with a myriad of entrepreneurial opportunities, are envisioned stretching all the way from the Hilton hotel to Potter's Cay," said Christie.
"My government has started a dialogue with the owners of cruise lines for the renewal and expansion of attractions, tours, shopping, cultural experiences and things to do in a pleasant, visitor-friendly, safe, well-landscaped and clean environment, that would improve visitor satisfaction and increase visitor spending to become the highest in the region.
"In the months ahead and in the ensuing period, the downtown area will benefit from new construction and community activities, creating many new jobs, entrepreneurial opportunities and enhanced government revenue," he added.
Alison Lowe
The Nassau Guardian