The 58th Annual Cat Island 'Greatest Show On Earth' Regatta is scheduled for August 1st to 4th.
Two prominent native sons recently made cash donations to the Cat Island Sailing Club Regatta Committee, Herbert Newbold, President of Herbert H. Newbold Insurance Agents &Brokers Ltd. and Ethric Bowe, Executive Chairman of AFS Insurance Brokers & Agents Ltd.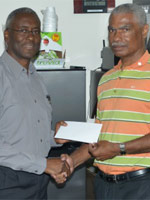 The upcoming Regatta will feature Veronica Bishop, Geno D, QPid, D Mac, Lassie Doh Boys and the Royal Bahamas Defence Force Dance Band.  Top sailing sloops in the A, B and C Class will compete from Friday to Sunday including Who Dat, Red Stripe, Good News, Southern Cross, Ed Sky, Cobra, Eudeva, Passion, Heatcliff, Jacob's Ladder, Ms. Kitty, Witty K and Dream Girls.
Cat Island Sailing Club
Top left photo (from left to right): Herbert Newbold presenting cheque to President Pat Strachan 
Side right photo (from left to right): Ethric Bowe presenting cheque to President Pat Strachan