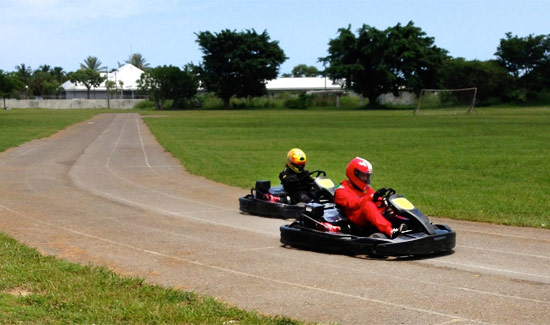 Edukarting Summer Camp is back for two weeks and being held at C.I. Gibson High School July 28th to August 1st and the second session August 5th to the 8th.  All
schools and students, boys and girls, welcome.
No cost. Students can come to the school to sign up any day this week for the next session and a unique opportunity to combine sport and education and have fun doing it.
Karting is an exciting motor sport and an educational opportunity for students to learn various skills; teamwork, engineering, mechanics, management, design – all of which can be useful as future job skills.
This initiative was introduced into government schools in conjunction with the Ministry of Education in 2013 starting with a pilot summer programme at Doris Johnson but accessible to all schools.  It was so successful that four of the schools who have automotive programmes continued through the year with after school Karting Clubs. Some of those students are again attending this year's summer camp to mentor the new intake.
This year at C.I. Gibson we have the running track to use as a race track and the two Driving instructors showed their driving skills to a young audience who can hardly wait for their turn.
There are still some spots left for the week of August 5th to 8th and anyone interested is welcome to come to C.I. Gibson and sign up.
Contact:
Victoria Sarne,
Director Edukarting
242 376 0765