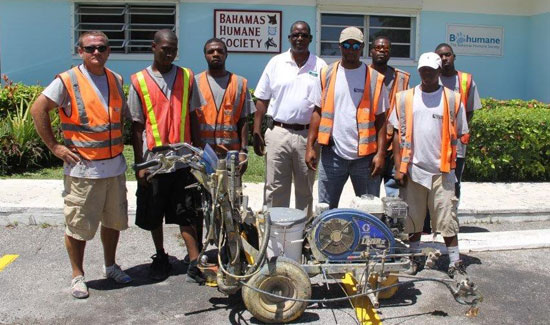 Nassau, Bahamas:  At the end of each striping or maintenance project, Bahamas Striping Group of Companies tries to find and develop avenues through which they can build and renew their commitment and legacy of giving and service.
Bahamas Striping Group of Companies extended an invitation to charities last week to provide these entities  with striping services in their parking lots at their various locations.
Atario Mitchell, President of Bahamas Striping Group of Services indicated, "Supporting communities and charities through the lending of our expertise and skills has always been and will remain a cornerstone of our business and a belief that guides most of our decisions."
To date, the company has provided striping services at The Salvation Army, The Bahamas Humane Society, The Cancer Society, and The Ranfurly Home. The overall objective is to extend the service to additional  local charities throughout the summer.
Mr. Mitchell also added that this project was coordinated and managed by two of their summer employees who they want to  train which will subsequently assist with launching their respective careers.
"Coming from a troubled background myself, I aspire daily to be a positive role model. I have been afforded  a tremendous opportunity to guide, motivate, and steer young boys and some of my peers in the right direction so that they can learn a trade to become productive and contributing members of our society," said Mitchell.
Summer employee, Levard Fox indicated, "I was unaware about Bahamas Striping, and now I have learned a new skill that goes hand in hand with my carpentry skills. This opportunity has allowed him me to re-align my goals and set new objectives."
Ranfurly Home's Administrator Alexander Roberts said the home is always grateful when corporate entities with a social conscience make donations to the home given their continuous need for assistance.
"It's a slow period but the community has been sensitized to the needs of the Ranfurly Home and the plight of the children that we serve as do all the other homes. We are beginning to see an increase in donations which is encouraging because  being an independent home, we depend  on the public for our  existence," he said.
The Calabash Group
Caption: Bahamas Striping Group of Companies Training Manager, Brian Bostock, guides summer employee Levard Fox, as he stripes the parking lot at The Bahamas Humane Society.
Caption: The job is complete. The Bahamas Striping staff along with Training Manager, Brian Bostock, and President, Atario Mitchell,get the final approval from Mr. Percy Grant, Bahamas Humane Society Shelter Manager