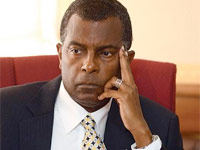 Permit me, if you will, to share my views on comments attributed to the minister of foreign affairs which have appeared in the local dailies this week.
Let me preface my remarks by stating that I've always held a position of admiration for the minister. I've found him to be quite knowledgeable and very well versed when it comes to both the local and international political landscape.
It is for this very reason, however, that I write to express my profound disappointment in his recent public utterances, which I find to be very unbecoming of a seasoned politician and someone who holds a very important post in our country.
You see, as the minister of foreign affairs, Frederick Mitchell is for all intents and purposes our chief diplomat. He is called upon frequently to represent us as a people and to be our chief spokesperson on a wide array of global issues.
On Monday, in the local dailies, in his commentary on the recent events with respect to Baha Mar, the minister is quoted as saying, "we can play crazy too". He also made reference to the acts of ministers who preceded him and gave the impression that, had Sarkis Izmirlian been in a Bahamas of years gone by, he would be packing his bags and on his way out.
While I offer no opinion on whether or not the actions undertaken in recent weeks by Izmirlian (and by extension Baha Mar) are right or wrong, I find it very unfortunate that Mitchell, given the position he holds, thought it necessary to offer such comments in the public domain. Certainly such remarks are unbecoming of our chief diplomat.
On Tuesday, in one of the local dailies, the former minister of foreign affairs, Brent Symonette, issued what I deemed to be constructive advice to the present minister by essentially imploring him to let 'cooler heads prevail' and not add fuel to the fire by such remarks.
I find it quite ironic that earlier in the term of this administration the current minister publicly spoke to the need for him to use his office to seek out 'new money' for the country, and for him to travel and assist with marketing our country to potential investors. Such remarks made by him publicly with respect to the ongoing saga at Baha Mar can only be seen as counterproductive to his earlier efforts.
What is even more disheartening for me as a young Bahamian is the response made by the current minister to the advice of the former. The language used was indeed distasteful in my sincere opinion, and not what we should expect of our leaders.
To suggest that it is impossible for the current holder of such an important office to accept advice from the former minister when he said, "The day I take advice from him (Brent Symonette) is the day pigs grow wings," only highlights the extent to which we are still very immature in our politics, and why so many of my peers do not find themselves attracted to, nor inspired by our leaders of today.
When we look at where our country is presently with the many challenges we face, we need leaders who are able to fully seize the moment, embrace the challenges and work with friend and foe alike to carry us into a new frontier. The events and comments addressed above do not in any way assist us in this regard.
It is with profound optimism that I humbly ask the minister to be mindful of his public comments; to recognize that we, as the next generation are watching and would appreciate it if he exercises better judgment in his commentary and responses.
At the end of the day, the utterances made by him today will no doubt impact our tomorrow.
– T. Bernard Hanna