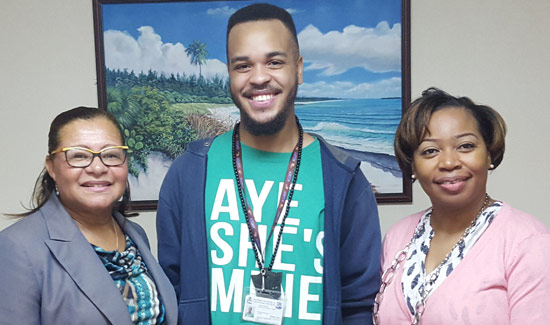 When Jonathan Harris-Smith began attending The Bahamas Technical and Vocational Institution (BTVI) in 2012, he never dreamt he would have the opportunity to participate in a student exchange program at a Canadian college.
Come December 30th, the 22-year-old Information Technology major will leave the sunny isles of The Bahamas en route to Canada, where he will most likely experience a white winter. That, however, pales in comparison to the wealth of knowledge and cultural experience he is expected to receive while as a student at Fanshawe College for the 2016 spring and summer semesters.
Jonathan is being afforded the chance to study in Canada on an Emerging Leaders in the Americas Program (ELAP) scholarship.
Identified by BTVI's Dean of Student Affairs, Racquel Bethel, as a potential exchange student candidate from three years ago, Jonathan was initially reluctant about leaving home. However, on his own volition, he later approached Ms. Bethel when he was mentally and emotionally prepared for what many would consider an opportunity of a lifetime.
"I thought I would come here to BTVI and get my degree and then just go to work. I never saw myself getting this opportunity," said the pleasant young man.
The Bahamas Academy graduate initially attended another local post-secondary institution, but decided to make the switch to BTVI for more experiential learning.
"I wanted something more hands on, and I found it here at BTVI," he said.
Additionally, BTVI students who participated in the ELAP program for 2015 were: Lynderia Clarke and Renel Pierre, who both studied Electrical Installation at Vancouver Island University, while Cordelia Dean and Mystique Stevenson were in the Computer Systems Technician program at Fanshawe College.
The scholarships, granted by the Canadian government, provide Latin America and Caribbean students with short-term exchange opportunities at the undergraduate and graduate levels.
Ms. Bethel described this as an "amazing opportunity" for the student, who balances work and his studies. She said Jonathan was chosen because of his cumulative grade point average (GPA) – which is 3.43 – and his level of maturity.
"Besides GPA, we look at students who are able to handle the transition, what is their focus, what are their goals?" she added.
Furthermore, BTVI's Acting President, Dr. Iva Dahl, encouraged the young man to remain focused while abroad.
"Take advantage of all the opportunities and what they have to offer. If you experience any difficulties, seek help before crunch time," Dr. Dahl advised.
"Do us proud," she concluded.
The student exchange, which began in 2009, requires BTVI students to return to BTVI to complete their studies following the experience.
The Bahamas Technical and Vocational Institution (BTVI)
OFF TO CANADA – BTVI Information Technology student, Jonathan Harris-Smith is all smiles with just a few weeks to go before he heads to Fanshawe College on an exchange program. He is shown here with BTVI's Acting President, Dr. Iva Dahl (l) and Dean of Student Services, Racquel Bethel.