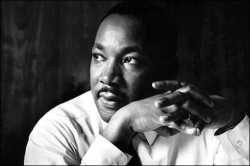 The United States Embassy in Nassau, The Bahamas, is pleased to announce the launch of the 10th annual Dr. Martin Luther King, Jr. Essay contest. The purpose of the contest is to encourage students to explore the life of Dr. King and his impact on the civil rights movement.
All high school students in The Bahamas ages 15-18 years old are invited to participate in the contest. "Dr. Martin Luther King, Jr. gave a famous speech entitled, I Have A Dream, on August 28th, 1963.  Dr. King shared his dream of a world where all people lived in peace and harmony.
Students nationwide are asked to write an essay in 500 words or less about how peace and harmony can be achieved here in The Bahamas.
The deadline for essay submissions is January 10th, 2016 at 5:00 PM. Winners will be announced on January 18th, 2016.
Top prizes include Apple iPads, Apple iPad Minis and Microsoft Surface tablets.
For full consideration, the following rules MUST be followed:
·       All essays must be 500 words or less.
·       The document must have 1 inch margins.
·       Use 12-point Times New Roman font.
·       The document must be double spaced.
·       Entry form and essay must be submitted electronically to NassauPublicAffairs@state.gov as ONE attachment no later than January 10th, 2016 at 5:00 PM.
·       Subject line of email must be YOUR NAME and TITLE of essay.
·       Late submissions will not be considered.
For additional information and access to download the MLK essay entry form please visit the U.S. Embassy's website: http://nassau.usembassy.gov.
U.S. Embassy