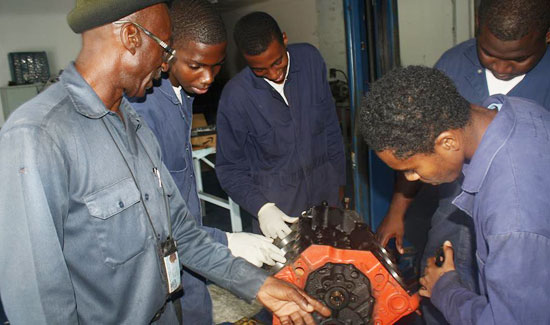 The Bahamas Technical and Vocational Institution (BTVI) is in continued talks with industry, as it seeks to strengthen ties and its position as the country's premier organization for career training.
The institution's credibility has been solidified by its affiliations with major industry partners such as the Grand Bahama Shipyard, Bahamas Oil Refining Company (BORCO) and the Freeport Container Port, among others.
According to BTVI's Vice President of the Northern Campus, Veronica Collie, the latest partnership is between BTVI and Baker's Bay in Abaco. The collaboration will result in the launch of a government initiative to be known as the Abaco Development Training Program, scheduled to commence August 22nd.
While offering BTVI's programs at Baker's Bay, the institution would also use this opportunity to offer its programs on the mainland through a satellite campus. The Baker's Bay program is in the areas of Carpentry, Electrical, Heating Ventilation and Air Conditioning (HVAC) and Plumbing.
Participants will follow a three-month integrative technical program with exposure to BTVI's regular English and Math courses. The technical program will be offered during the work hours at Baker's Bay and the relevant English and Math courses will be offered at BTVI-managed evening institutes throughout Abaco in seven-week intervals.
"We are looking at two tracks – one will offer upgrading to the Baker's Bay staff, who might be interested in these programs. The Baker's Bay staff will be doing classes both through on-the-job training at Baker's Bay and classroom training on the mainland," said Ms. Collie.
Meanwhile, the Container Port is seeking a customized program in Maintenance Technology that will also allow students to pass the City and Guilds Level 2 Maintenance Technology diploma qualification.
"That's entry level in engineering. The apprentices should be able to take care of maintenance at the container port once successful," said Ms. Collie.
The City and Guilds program requires practical training; hence, it is proposed that apprentices spend four days at BTVI's campus and a day at the container port. After the first semester, BTVI and the Container Port will make an assessment to see whether the apprentices need to spend more time at the port for additional exposure to the equipment.
Ms. Collie said it speaks volumes that major, reputable organizations continue to approach BTVI to assist in training their staff.
"Our students go to these institutions for internships and the record they set might be speaking for us. Organizations are gaining confidence in BTVI. They look at our stability and standards. When we meet with industry leaders, we assure them that our students also do Math, English and soft skills so they understand how to deal with conflict in the workplace," she stated.
Minister for Grand Bahama, the Honourable Dr. Michael Darville, recently spoke at BTVI's Northern Campus commencement exercise, where he recognized the benefits of such partnerships with the institution.
"As the Ministry for Grand Bahama is mandated to grow and diversify the economy of Grand Bahama, I ask the institution's continued assistance in developing programs that will further prepare our people to play a more active role in the agricultural, industrial, tourism and manufacturing sectors of our economy, which will maximize the potential for economic development of our island," he stated.
Minister Darville also highlighted that emphasis must be placed on training in technology and skills as a part of national education programs as the gift of a well-rounded, quality education is the basis of a country's progression. He assured the students that "the government is in affiliation with the private sector to create employment and business opportunities particularly for those trained in the technical and vocational areas."
BTVI Metal Machine Fabrication instructor, Godwen Scott agrees that such alignment with industry, adds to the institution's credibility.
"It shows we are moving forward in the right direction. We went into the shipyard and built our curriculum based on our visit and what was happening in industry. We have strong ties with industry," emphasized Mr. Scott.
"In my area, I get feedback from them regarding what they are doing in industry and I build on that. It has to be applicable to what's happening on the ground," said Mr. Scott, who wrote BTVI's curriculum for Metal Machine Fabrication.
Already, Sachin Lewis is experiencing the benefits of being a shipyard apprentice and spending time in classes at BTVI.
"The experience at BTVI has been very enjoyable. We learn to do things that the ordinary person would call a professional, such as changing a switch in the house. You can do that yourself and save yourself a lot of money," said the 18-year-old.
A few of the courses he has taken so far include Welding, Pipe Fitting, Mechanical Engineering, Electronics Engineering, Physics and Chemistry.
By Hadassah Hall
The Bahamas Technical and Vocational Institution (BTVI)
Grand Bahama Shipyard apprentices hard at work in an Auto Mechanics class at BTVI. BTVI and the Shipyard has partnered for several years; the apprenticeship classes at BTVI include Welding, Pipe Fitting, Mechanical Engineering, Electronics Engineering, Physics and Chemistry.