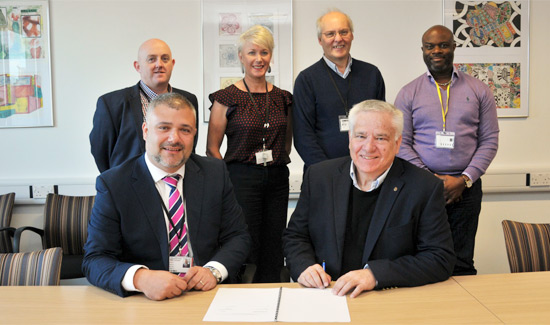 The Bahamas Technical and Vocational Institute (BTVI) has signed a Memorandum of Understanding (MOU)with Barnsley College, England. The MOU is designed to promote partnerships that will focus on best practices in the areas of delivering job-ready skills training, using an apprenticeship model.
BTVI's president, Dr. Robert Robertson said, "Barnsley College is noted as an innovative leader in adult education in the United Kingdom. We are excited to be partnering with them to advance the BTVI brand."
Seated in front are Deputy Principal of Barnsley College, Yiannis Koursis (l) and BTVI's President, Dr. Robert W. Robertson.
Standing from left to right are: Barnsley's Head of Department, Health Sciences and Social Care Professions, Lee Pryor; Business Development Director, Tricia Smith; Board of Governors' Chair, Simon Perryman and Chief Executive Officer of The Bahamas Chamber of Commerce and Employers Confederation, Edison Sumner.
Hadassah Hall | Public Relations Officer
Bahamas Technical & Vocational Institute
Photo courtesy: Barnsley College