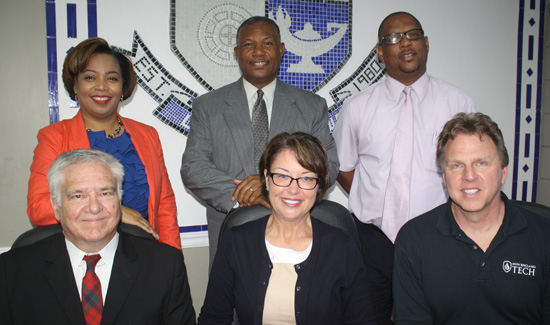 As it continues to seek access to higher education for qualified students, the Bahamas Technical and Vocational Institute (BTVI) recently signed a new Memorandum of Understanding with New England Institute of Technology (NEIT), Rhode Island.
Designed to link the two institutions, the key areas of focus include Information Technology, Maritime and Medical Training.
"These are very important sectors in the Bahamian economy and globally; therefore, working with NEIT will afford more opportunities for our students and faculty," noted BTVI President, Dr. Robert W. Robertson.
Specifically, the partnership will promote student and faculty exchanges, joint faculty research, linked virtual classes and includes scholarships for BTVI students to attend NEIT to complete Bachelor level studies.
NEIT is a leader in technical career education in New England. Headquartered in East Greenwich, Rhode Island, NEIT is a private, non-profit technical university offering Associate's, Bachelor's, Master's and online degrees in over 50 programs that have been designed with input from both educators and industry experts. The focus at New England Tech is to give each student a solid balance of analytical skills with hands-on training. Enrollment has grown to 3,000 students.
Meanwhile, BTVI is the premier technical and vocational institute in The Bahamas, training more than 1,600 students on campus locations in Nassau, Freeport and Abaco. In addition, BTVI has launched online courses and programs to service the Family Islands and others in need of flexible training and certification.
Bahamas Technical and Vocational Institute (BTVI)
Seated from left to right are: BTVI's President, Dr. Robert W. Robertson; NEIT's Vice President of Enrolment Management, Kathleen A. Ehlers and Assistant Director of Admissions, David R. Loranger. Standing from left to right are: BTVI's Dean of Student Services, Racquel Bethel; Associate Vice President, Academic Affairs, Leroy Sumner and Dean of Construction Trades and Workforce Development, Alexander Darville.
Photo: Shantique Longley