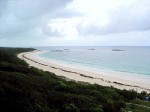 As I set sail on a 42-foot yacht steered by Capt. Benjamin Dunable, I was eager to explore and experience the local flavor of the Abacos, the third largest island in the Bahamas.
Considered the sailing capital of the world because of its 120-mile-long coastline, Abaco is a perfect destination for boaters, scuba divers, snorkelers, fishing enthusiasts, bird lovers and beachgoers.
Abaco's naturally protected waters once served as a safe harbor for British loyalists during the American Revolution. Its two major islands – Great Abaco and Little Abaco — boast dozens of offshore cays and barrier islands that abound with game fish, including marlin, sailfish and the world's best bone fishing flats. The fish that were the most abundant during my visit were grouper, snapper, amberjack, bonefish, mackerel and dolphin.