Bahamas Economy Set For New Blow
August 2, 2010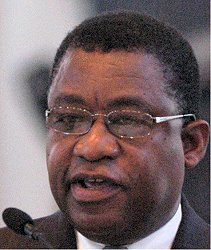 Former minister of state for finance, James Smith recently expressed concern that the possibility of a "double dip" recession in the United States could further prolong the economic woes of The Bahamas.
A report on Gross Domestic Product, the output of goods and services that indicates the performance of an economy, showed that the US economic recovery is losing steam.  The United States is the the Bahamas' main tourist market.
U.S. GDP growth is slowing in the second quarter of the year, to 2.4 per cent, in comparison to the average 4.4 per cent rate recorded over the past six months; and the greater 3.7 per cent pace recorded for the first quarter of the year.
The slowdown was attributed to what Smith called a key factor for The Bahamas – a fall in the rate of growth in spending by US consumers, from 1.9 per cent in the first quarter to 1.6 per cent in the March to June period.
While some international economists said they did not believe the new economic figures suggested the likelihood of a further outright contraction in the US economy, known as a "double dip' recession" – some see this on the horizon. Others suggest that if not a further recession, there remains the potential for an even greater slowdown in the economic growth rate in the United States as the year continues, with all of the implications that will have for The Bahamas in terms of a stagnation or even a further drop off in the visitor arrivals that feed the local economy.
Mr Smith said: "Any news about the US economy slowing down is really not good news for us because it prolongs our recovery but the really important numbers in there relate to consumer spending and consumer confidence. Those really affect The Bahamas and so if they are down that is really not good news for us."
Source: The Tribune