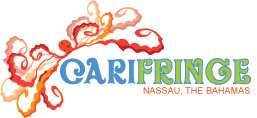 CariFringe is the name for what will become an annual 10-day cultural and regional Arts festival hosted by The Bahamas here in the capital of Nassau.
This year its inauguration will take place during October 1-11, 2010 and it promises to be an exciting, creative, moveable feast with its inclusion of a wide range of art forms, activities and performances taking place at different locations all over Nassau. CariFringe is the name for the 'umbrella' administration which encompasses various artistic and creative disciplines. Its logo, a representation of an octopus, reflects this ideal of arms reaching out and embracing both participants and audience alike. Under its auspices theatre productions such as Shakespeare in Paradise,", which enjoyed much success last year, will be mounting several productions again during this period. Other happenings will include Literary Readings, Social Events, Workshops and Discussions, Craft Markets and Art Exhibitions, many of which draw on local as well as regional participants.
CariFringe has several objectives, one of which is to be a new Caribbean Festival model, based in part on the model of Carifesta, a government sponsored and branded festival which has taken place in diverse Caribbean locations over the years but which has proved to be mostly uneconomical to mount or host. CariFringe will be different in that it will follow more along the lines of "Fringe festivals" in other parts of the world. It will be largely self-managed by the participating artists which means unlike Carifesta, the artists will have the opportunity as well as the responsibility to have ownership of their own artistic endeavors or product, develop their own branding and having the ability to seek funding and sponsorship from the market sector and company of their choice.
CariFringe itself will hold a management role within the process and is responsible for marketing all affiliates under the cohesive brand of CariFringe. It will create the core festival events, develop the festival schedule and liaise between festival affiliates, providing information to guests and the public, as well as acting as the overall support unit for participating artists and affiliates.
It is designed to be an annual, roving, self-sustaining event which, it is anticipated, will produce a multitude of economic and cultural benefits across the community, in business as well as in the arts. It is hoped that it will prove to be a sustainable and significant addition to the tourism product, enhancing as it will, the revitalization of Bay Street and providing visitors with a different perspective of Bahamian life and culture, as well as enabling artists in all disciplines to gain exposure to a wider audience. This in turn should engender economic opportunities for local businesses and individual vendors, such as, restaurants, shops, hotels, surrey and taxi drivers. A related goal is to provide education, opportunities and programming, for schools and for those young people needing encouragement, an incentive to follow their own artistic inclinations.
The CariFringe administrative team has drawn on the collective experiences of its members and unanimously concluded that the proven success and viability of the Art Basel model is the one most suited to the goals and objectives of CariFringe.
The vision of CariFringe for Nassau and The Bahamas – to create and develop a viable, exciting, cutting edge Arts District in Nassau with the CariFringe Festival as an annual highlight.
Supporting this program are the Bahamas Art Collective; Shakespeare in Paradise; Downtown Nassau Partnership; Take Initiative Nassau; Fam Entertainment; The Hub; Track Road Theatre; Ringplay Productions; the Brown Entertainment Group; The Nassau Guardian; InSitu Arch and the Ministry of Culture. In the coming days and weeks you will be able to check out the website at www CariFringe.com or on the radio or TV and out on the street. CariFringe welcomes your participation as a sponsor or a volunteer. Please email the CariFringe team at carifringe@gmail.com and help add a new dimension to the Bahamian experience.
Source: The Nassau Guardian