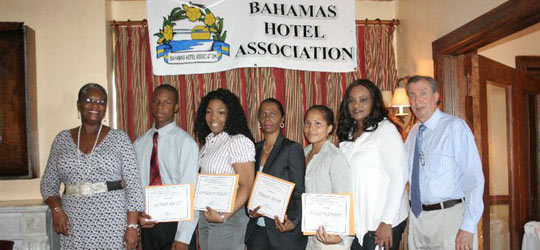 Thirteen Bahamian students were presented with scholarship awards this week totaling $80,500 thanks to the generous financial support and fundraising activities of the Bahamas Hotel Association, the Bahamas Hotel Employers Association and the Caribbean Hotel Association Education Foundation and their members. The awards were presented to the students during a meeting of the Bahamas Hotel Association.
"Despite the economic challenges facing our industry, hoteliers, our travel partners, our allied members and others stepped up to the plate, donating sponsorship cash, vacations and other prizes for auctions and our annual golf tournament allowing us to award a record number of scholarships to deserving students wishing to pursue a career in our exciting and diverse industry" stated BHA Executive Vice President Frank Comito.
Through the support which BHA members provide to the Caribbean Hotel and Tourism Association Education Foundation (CHTAEF) and that of their major corporate partners, regional awards were presented to four Bahamians totaling $56,500, a record annual amount for The Bahamas.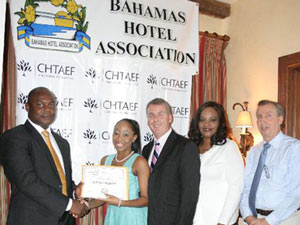 Topping the regional list of Bahamas CHTAEF recipients was Alexis Hanna from New Providence who received a four year scholarship to attend Johnson and Wales University totaling $32,000, with half of that contributed by First Caribbean International Bank and the other half matched by the university.
Regional awards also were given to Leslie Lopez from New Providence who was granted a $5,000 CHTAEF scholarship to attend Florida International University which is adding $2,500 to the award. Successful re-applicants for CHTAEF awards were Ivana Smith and Volanda Rahming, both from New Providence who are attending Johnson and Wales University.
Nine students were presented with awards in the name of the Industry Partners Pat Bain Scholarship Fund to attend the College of The Bahamas. The fund was established four years ago in honour of the late union leader Pat Bain who was a strong advocate for education and training. It is supported by the Bahamas Hotel Association, the Bahamas Hotel Catering and Allied Workers Union, and the Bahamas Hotel Employers Association.
New recipients for the 2010-11 Industry Partners' Scholarships are Dawn Ferguson, Andros; Corrie Smith, New Providence; Rikema Spencer, Eleuthera; Berlyn Smith, Grand Bahama; and Tarran Simms, New Providence. Four students received renewed awards in recognition of their continued academic excellence including Heidi Gabrielle Pluntke, Tanya Vanessa Marshall, Crystal Melissa Clarke and Michelle Thurston.
Sixty-Nine Bahamians have been awarded scholarships totaling $230,000 during the past five years to pursue tourism-related studies as a result of the BHA-led and CHTAEF programs.
The Caribbean Hotel & Tourism Association Education Foundation was established in 1987 as an independent non-profit organization offering tax-exempt status for donations. The charity offers scholarships and special assistance for the education of Caribbean tourism industry personnel and students pursuing tourism & hospitality careers.
Bahamas Hotel Association