Culture Minister Sees Potential In Bahamas Gymnastics
August 18, 2010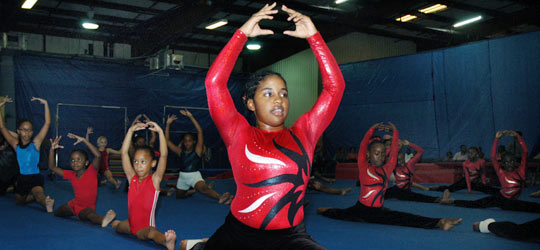 NASSAU, The Bahamas – Gymnastics in The Bahamas is full of "tremendous potential", with more participants, better-trained coaches and international exposure that could formulate another national team in a sport that the country would showcase its prowess, Minister of Youth, Sports and Culture the Hon. Charles Maynard said, on August 12, 2010.
"We are indeed expanding the number of disciplines that we participate in at the international level and, as you know this is one of the most popular Olympic Sports; so the target for gymnastics in The Bahamas is the Olympics 2016," Minister Maynard said at a programme of the Bahamas Star Gymnastics facility, at the Source River Centre, Bacardi Road.
"How wonderful would it be for us to be able to compete in and be successful in track-and-field as usual, swimming as usual, boxing as usual and then to introduce a gymnastics aspect to our team traveling to that Olympics game," he added.
"That is a very exciting prospect."
The event, held by Bahamas Star Gymnastics in conjunction with Bahamas Gymnastics Parents Booster Club, was an exhibition of Starmania summer campers and pre-competition judging for 10 gymnasts by Coach and Judge Robyn McNicholas of Albuquerque, New Mexico.
Minister Maynard said Bahamas Star Gymnastics has been in direct talks with the Gymnastics Federation of The Bahamas (GFB) and they are now combining efforts that will result in a number of the participating gymnasts forming the national team to travel and compete together with the GFB.
"This is a breakthrough because there was an impasse for a while," Minister Maynard said.
"We helped to negotiate the unification of efforts and so this is a wonderful occasion.
"Not only is it historic in terms of having international coaches coming and helping to train our young gymnasts; it is also the introduction of a new facility for Bahamas Star Gymnastics.
It is still in development; but I am impressed with what I have seen.
Sports Liaison Officer with responsibility for gymnastics in the Ministry of Youth, Sports and Culture Miles Yallop said that it was a "major milestone" in the group and advancement of Bahamian gymnastics.
"I have a vision that numerous facilities, similar to this one, will be throughout New Providence and the Family Islands," Mr. Yallop said.
"This is definitely an advancement in the sport and I am looking forward to the public's support in getting children further involved in this."
Mr. Yallop added that he was impressed with the level of training and certification of new Bahamian coaches, to the extent that it has moved out of the arena and into the government agencies where persons in the police and defence forces are now trained and certified in gymnastics.
"They too, then, can go into communities and start clubs of their own," Mr. Yallop said.
"The idea really is to broaden the base of this sport; so that communities can be saturated with similar clubs and we could build a cadre of athletes, teams and professionals throughout the length and breadth of this country.
That is really my vision for this sport."
"This is state-of-the-art equipment, forming a state-of-the-art facility with some of the most qualified coaches in The Bahamas," Minister Maynard added.
"The future of gymnastics, as far as I am concerned, is in good hands."
By Eric Rose
Bahamas Information Services