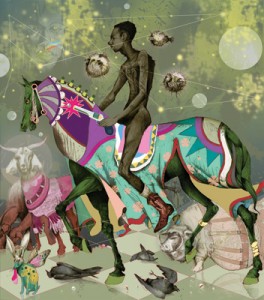 Examining human existence is the aim of a new art exhibit by Lavar Munroe which is scheduled to open at the Central Bank of the Bahamas next month.
It is Mr Munroe's second exhibition and has already generated excitement in the local art community.
On September 1, the walls of the Central Bank of the Bahamas will transform into a "suggestive environment" that will examine human existence – past, present and future, according to the artist.
Music from the opera "Porgy and Bess", as performed by the Nassau City Opera, will be used to complement the art work.
Mr Munroe is a Bahamian-born artist who currently lives in North Carolina.
He was selected as an exhibiting artist after winning the prestigious Central Bank Award in 2009.
'Life After Life' opens to the public on Wednesday, September 1, 2010, at 6pm in the gallery at the Central Bank of the Bahamas .