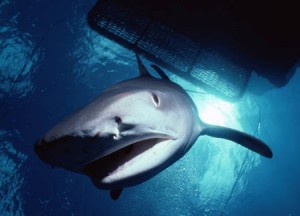 The first three nights of Discovery Channel's Shark Week are tracking as the most-watched outing of the annual event in three years.
From Sunday through Tuesday, Shark Week is averaging 2.6 million viewers per night — up a steep 24% from the first few nights of 2009.
Sunday's "Ultimate Air Jaws" started the week off strongly with 3.5 million viewers, followed by Monday's considerably less popular "Shark Attack Survival Guide" (1.8 million), and then perking up a bit with "Sharkbite Beach" (2.3 million).
Mixing docudrama-style narration, heart-stopping footage and educational content, the series has since become a summer-television staple with a cultish following.
It is now cable's longest-running event as well as one of its most watched.
Every year since 1995, the series has pulled in an audience of more than 20 million, and in 2008 it drew its highest audience ever, with 29 million viewers.
Below, you'll find a funny take on Shark Week:
[youtube]634BWmkKAsc[/youtube]