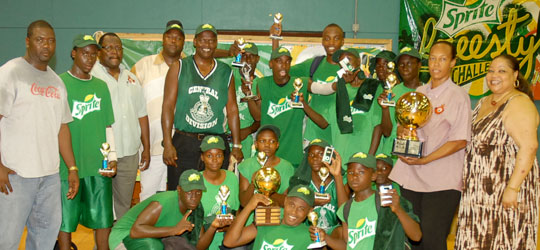 After weeks of nail-biting action, the Championship game of the Sprite Freestyle Challenge basketball tournament – an initiative between Royal Bahamas Police Force and Caribbean Bottling Company – was played at the C. I. Gibson gym on Friday, July 30.
With eight teams whittled down to the top two and competition expected to be fierce in the final match-up between tough Central Division and the determined Southeastern Division, Coach T. Weir and his Central Division squad came away with the prestigious title in a close two-point victory over Southeastern.
The low scoring game with excellent defense from both teams was the finals in what had been a summer of building teamwork and sportsmanship along with court memories for hundreds who participated in the Sprite Freestyle Challenge, the organized sports component of the Royal Bahamas Police Force Summer Youth Camps.
In the finals, Southeastern dominated with the lead changing hands several times, but it was not until the final seconds of the game that Central was able to outplay Officer Rodgers and his resilient Southeastern team.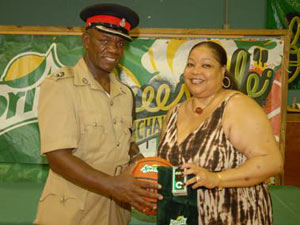 With only 3 seconds left in the game, Central Division hit an amazing shot to take a 2-point lead. Still in the game, Southeastern's # 6 Trevor Smith was fouled and sent to the free throw line with a chance to tie the game and send it into overtime. Unfortunately it was not to be, missing the free throw shots, Central held on to its 2-point lead and won 62-59. In addition to bragging rights until next year's tournament, the Central division team received the Sprite branded floating trophy in addition to individual trophies, branded Sprite i-Pods and hats along with a case of Sprite. The championship rivals, Southeastern received individual trophies, branded tote bags, hats and cases of Sprite.
Talent on the basketball court was not the only thing on display as the band component of the summer youth camp made their presence felt during a highly active and entertaining half time performance. Over 50 young people strut their musical flair in a gym rocking and crowd pleasing show.
The Sprite Freestyle Challenge involved over 2,000 youth, all involved in activities aimed at inspiring a healthy and active lifestyles as well as teaching the meaning of teamwork and sportsmanship.
Diane Phillips & Associates
Photos by Dave Carlton