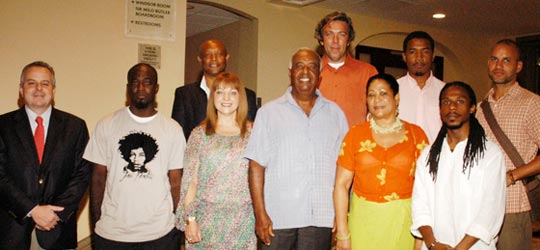 They appeared over the summer with steady pace and heady feel — 15 murals and sculptures that have transformed historic sites in downtown Nassau into photo-worthy stop-and-gaze destinations of their own. Now, the collection of art known as Love My Bahamas is officially open after an unusual ceremony that involved dignitaries, a cocktail reception, artists, bus tour and more.
Deputy Governor-General Frank H. Watson and Minister of Culture Charles Maynard were both on hand for the invitation-only event along with international and local executives from Love My Bahamas co-sponsor Coca-Cola, and other sponsors including the Ministry of Tourism, Downtown Nassau Partnership and the National Art Gallery of The Bahamas.
Fifteen artists, including two from Grand Bahama and two from the United States, toiled for months creating murals that depict Bahamian themes and scenes. Artists include Antonius Roberts, John Beadle, Chantal Bethel, Lillian Blades, John Cox, Claudette Dean, Tyrone Ferguson, Maya Hayuk, Jace McKinney, Toby Lunn, Kishan Munroe, Jolyon Smith, Allan Wallace, Arjuna Watson and Daniel Weise.
Diane Phillips & Associates