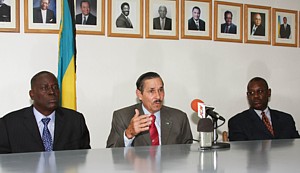 The Bahamas joins nations worldwide in celebrating World Food Day on Saturday.
It is sponsored under the auspices of the United Nations Food and Agriculture Organisation.
The primary focus of this annual event is the eradication of world hunger which is said to effect one billion people, Agriculture and Marine Resources Minister Lawrence S 'Larry' Cartwright told a press conference.
Under the theme 'United Against Hunger', the Ministry hosts a series of activities at the Gladstone Road Agriculture Centre.
It is estimated by international experts that 40 years from now the population of Earth will be nine billion people.
As a result the production of food globally would have to increase by 70 per cent above present levels in order to prevent widespread hunger and malnutrition, said Mr Cartwright.
A highlight of this year's commemoration will be the presentation of gift certificates and bins of food to homes for senior citizens and under privileged children.
Programmes for Saturday also include the Farmers' Market, and a Backyard Gardening Workshop.
"While it is recognised that hunger is a complex geo-social problem," said Mr Cartwright, "there is also the realisation that a critical feature of hunger is the non-production of essential food-stuffs in the areas where they are needed.
"This means that each country will have to play its part in this massive effort to raise global food production, and ensure that basic food stuffs are produced in the very communities where they are to be consumed."
Mr Cartwright also recognised the "important role" played by the Food and Agriculture Organisation (FAO) in fostering agriculture development in The Bahamas.
"There is a strong, positive relationship between FAO and the Ministry of Agriculture and Marine Resources, he said.
By GLADSTONE THURSTON
Bahamas Information Services
BIS photo/Letisha Henderson