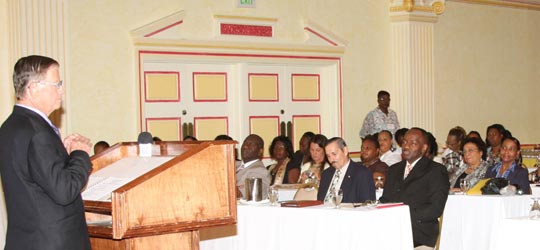 In their quest to have only authentically Bahamian products sold at the new multi-million dollar craft market downtown Nassau, artisans on Wednesday got solid support from two senior government officials.
"The Bahamas is on your side," Agriculture and Marine Resources Minister Lawrence S 'Larry' Cartwright told the Bahamas National Craft Association's fifth annual general meeting.
"Everyone is enjoying what you are doing.
"Infinite possibilities, such as lucrative linkages with the tourism sector, increased levels of employment, greater income earning and empowerment for Bahamians can be derived from an innovative craft industry."
Bahamas Agricultural and Industrial Corporation executive chairman Edison M Key supported the BNCA's application to have a stake in operating the craft market.
"I have no doubt about your ability to do so," he told the participants in the AGM. "You have my support.
"That way we can be assured that only authentically Bahamian products from all the islands will have a presence there.
"It is our hope that rather than it being a duplicate of what currently obtains under the tent, that it be a showpiece to the world of Bahamian art and craft."
With Acklins Islander Martha Smith as president, the BNCA boasts a membership of 30 associations from throughout the islands.  Under the theme 'Endless Possibilities', artisans come together Friday for the annual BahamArts Festival at the Arawak Cay Culture Centre.
Mr Key confirmed a $500,000 grant from the Inter-American Development Bank for the marketing of Bahamian craft.
"It will be used over the next two years to create a virtual marketplace for Bahamian handicraft products," said Mr Key.
"The application of this grant will enable you to do business in cyber space.
"In other words, persons from anywhere in the world will be able to go online, examine your products, place orders, pay, and have the products sent to any address in the world.
"Therefore you must acquaint yourselves thoroughly with all rules and regulations governing Internet trading, copyrighting, and business administration."
By GLADSTONE THURSTON
Bahamas Information Services