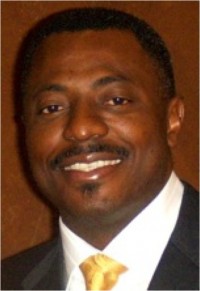 Nassau, The Bahamas – Lieutenant Commander Herbert Bain returned home with a new degree and visionary insight for the maritime sector.  He anticipates using his new skills to help form national maritime regulations that complement international maritime legislation.
"Most countries do not have the capacity to police their borders so that is a reality that we are aware of and international cooperation and collaboration can fill some of the gaps when it comes to your limitations as a country," said Lt. Commander Herbert Bain.
"We are the third largest ship registry in the world, so when it comes to ship safety, we have a major responsibility and obligations for safety to life at sea as well as all the other conventions related to ships in international trade.  So, all maritime issues become very important to us."
On October 10, he graduated from the World Maritime University in Mamao, Sweden with a Masters degree in Maritime Affairs.  The awards were presented by the Secretariat General of IMO, E.E. Metropoulos, Chancellor of the University.
The Masters in Maritime Affairs programme is an intensive 17-month long programme, endorsed by the United Nations.  Lt. Commander Bain anticipates his knowledge would be used to assist in drafting maritime legislation and policies that coincide with the international Law of the Sea.  He also looks forward to paving the way for young Bahamian cadets to get exposure with working on private yachts.
"Opportunities are available within the industry.  There's a lot of things we can do as a country to attract young people to the industry.  With the number of ships we have out there, we need to get our young cadets on ships and get them exposed," said Lt. Commander Bain.
"Along with the commercial shipping industry, we have the most cruise ships on our register and yachts are considered passenger ships as well.  We have other commercial ships, such as tankers, where we could also get Bahamians on board [these ships].  The key is for us to start somewhere and create that avenue."
Bain specialises in Maritime Safety and Environmental Administration and concentrated on International Maritime Law and Policies, Port Management, Maritime Ocean Management, Environmental Administration, as well as other areas in the maritime sector.
Lt. Commander Bain was the former International Ship and Port Security (ISPS) Coordinator for The Bahamas.  He also served as The Bahamas' 24-hour Single Point of Contact for the International Maritime Organisation (IMO).
"I am convinced that numerous opportunities exists within the maritime field for young Bahamians.  Also, I am committed to assisting in the growth and development of the industry", said Lt. Commander Bain.
Bain began his maritime career in 1984 when he joined the Royal Bahamas Defence Force and was sent to Britannia Royal Naval College at Dartmouth, England to complete the Royal Navy's International Midshipman's Course.
Since then, he has qualified himself in several other maritime related areas which include inter alia Port Operations and Management, Marine Surveying, Commercial Ship Master/Chief Mate Certificate, IMO Member State Auditor and Marine Pilot training.
By Gena Gibbs
Bahamas Information Services