Nassau, The Bahamas – Twelve Bahamian Nation Builders were recognised for their social contributions to Bahamian Society in the course of their lifetime.  The families and caregivers of the Honourees witnessed the unsung heroes receive their award from Governor General Sir Arthur Foulkes, during the October 2010 celebration of Older Persons Month.
Sir Arthur said the recognition presents an opportunity to raise awareness and to sensitise the public on the issues, challenges, and implications faced by an ageing society that appears to be living longer globally.
"This phenomenon of ageing in this global population is a blessing and yet a challenge and provides us with new social challenges that must be addressed.  There are financial, physical and social implications to be considered, with health, pension, housing, food, security, and other issues and challenges that must be addressed," said Sir Arthur.
"In addition to honouring our senior citizens, we must place greater focus on their physical, social, and emotional well being.  There are many older persons who are still being neglected, abandoned, and have to fend for themselves in this most vulnerable stage of their lives."
The Governor General said that in bringing greater focus on issues facing older persons, it is important to ensure that our elders are not left to suffer in loneliness and social isolation.
"Older persons must be treated with dignity and respect.  Indeed, we should consider it an honour to provide for our older loved ones, especially when those older persons have made our lives easier and made sacrifices, so that all of us may have a better Bahamas," said Sir Arthur.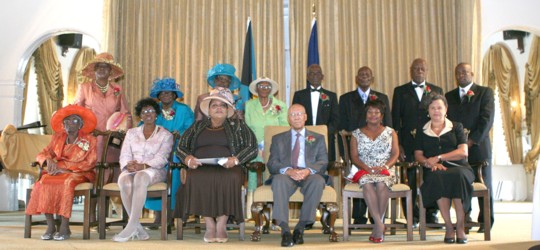 On October 25, The Ministry of Labour and Social Development held the 13th Annual Nation Builder Awards Ceremony at Government House on Mount Fitzwilliam, under the theme "Older Persons and the Achievement of The Millennium Development Goals."
Minister of State for Labour and Social Development, Loretta Butler Turner, gave brief remarks before the Governor General.
"The 12 persons, who will be awarded this morning, were selected from a larger group of nominees from many of our Family Islands throughout the length and breadth of our archipelago, The Bahamas, and it's a well representative group of Bahamians," said Mrs. Butler Turner.
"Among them are persons with an array of professions including entrepreneurs, craft persons, straw vendors, farmers, fishermen, care givers, carpenters, masons, boat builders, an expert bush medicine person, and the oldest retired taxicab driver in The Bahamas.  They are all devoted to their families.  They are all ardent church members and outstanding leaders in their communities.  They form the threads that make up the fabric of what we are as Bahamians."
Among those honoured this year were Alvin Adderley, Alfred Henry Albury, Stanley Sidney Collie, Rowena Advilda Cooper, Cetia Darling Ferguson, Catherine Olivia Johnson, Idell Jones, Reverend Solomon King, Pastor Glendina Knowles, Evelyn Lloyd, James Edward Miller, and William Pratt Sr.
The first Nation Builder Awards Ceremony was held on October 31, 1997, in the Ballroom of Government House.  The annual award was instituted to pay homage to the hardworking everyday persons in the community.
By Gena Gibbs
Bahamas Information Services
BIS/ Photo Raymond A. Bethel