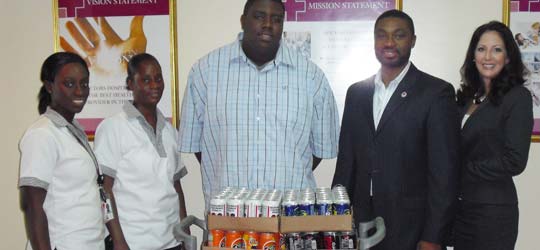 Accredited by Joint Commission International, Doctors Hospital Bahamas is the top rated health care provider in the Region. In keeping with Doctors Hospital's core values "We Care", the hospital honors its commitment and responsibility to the Bahamian community through philanthropy. In addition to supporting local charities and providing healthcare to Bahamians, Doctors Hospital services extend globally with the treatment of illness and injury and disease prevention for all patients.
For over half a century, the hospital has made a significant impact to the Bahamian community through the generous support to local charities. Just a few weeks ago, a young girl who was on a bicycle was involved in a fatal accident. The tragic bicycle accident claimed the life of one of the children in the Kemp Road area, eight year old Tasheka Jonson, a student of Uriah McPhee Primary School, who was knocked from her bicycle on Kemp Road.  In her honor, the Kemp Road Urban Renewal Center recently hosted a Bicycle Seminar and Rally to educate parents and children the responsibility attached to operating a bicycle on the streets of Nassau.
Recognizing the need for education and support, the hospital assisted the Kemp Road community by presenting Kolamae Pedican, Center Manager with a donation. This donation was to assist with the efforts of the Tasheka Johnson Bicycle Seminar & Rally, which purpose was to sensitize parents and children about the dangers of riding bicycles in the streets, and to educate the children about safety and local laws. The Royal Bahamas Police Force, Doctors Hospital, and The Road Traffic Department helped to deliver this important message.
Bike riding can be fun, but accidents happen. Every year hundreds of children go to the emergency room because of bike injuries, and some have injuries that require a few days in the hospital. A head injury can mean brain injury. Some of these head injuries are fatal.  That is why it is so important to wear a bike helmet. Wearing one does not mean you can be reckless, but a helmet will provide some protection for your face, head, and brain in case you fall down.
Doctors Hospital is recognized as a corporate and community partner that gives back. Corporate citizens are encouraged to lend a helping hand whenever possible. To make a donation to the Kemp Road Urban Renewal Center call (242) 394-7966/7.