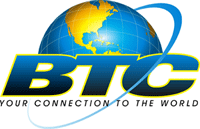 In response to the demonstration today in front of BTC Headquarters regarding the Union's position on management's contract proposal to the Company's non-management Bargaining unit – the BCPOU, BTC's CEO Geoff Houston indicated that he remains optimistic that the Company will continue to work with its union partners to "shape a way forward" that will benefit all stakeholders.
"First, I would like to point out that we have been able to accomplish much with our union partners since coming into BTC in April.  We have had considerable discussions on a wide range of issues and have been able to agree on matters that have served the interests of the entire BTC team," noted Houston.
"So while certainly we do not want to negotiate a very important new labor agreement in the press, we understand that our union partners will not always agree with us and will want to use available channels to get their point across.  This will happen from time to time and we are not alarmed."
"Paramount though in our minds as we move forward is the need to create a world-class, customer-centric organisation that provides superior service, cutting-edge products, and best prices and value for money. And our industrial arrangements and company policies must be shaped to facilitate this if BTC is to survive and thrive going forward."
Houston pointed out that BTC has entered a new era not only of private ownership, but of significantly increasing competition in its traditional spaces like landline.  Further, the company faces the prospect of a strong mobile competitor in less than two and a half years.  Houston noted that this will mean that the way that BTC conducts business must change if the company is to survive in this new environment.
"We have indicated to the unions our desire for true partnership to move BTC forward in this increasingly competitive environment. Our shared desire must be to create an environment where our team members can grow and flourish professionally – a setting where all staff are empowered and can advance based on their own skill and preparedness to excel.
This frankly means that together we have to create a new business environment that focuses on customer care, improved quality of our products and services, freedom to innovate and get things done and the assurance that all team members are accountable to each other, the business and our clients.
"Provided that we can in good faith continue our discussions based on these core principles, I am convinced that we shall find common ground and shape an agreement that will serve the interest of all parties," continued Houston.
Diane Phillips and Associates