Declaring Nassau was now on par with the most advanced telecoms networks in the world, Prime Minister Hubert A. Ingraham figuratively flipped a switch and transformed New Providence into a world of 4G, the lightning fast speed revolutionising cellular and internet service.
The switch took place at the official opening of BTC's new flagship store December 5 at the Mall at Marathon with the Prime Minister, members of Cabinet, directors, dignitaries, union leaders, the Golden Girls and about 100 invited guests on hand for the ribbon-cutting. Activities celebrating the grand opening are set for Saturday with entertainment, Junkanoo, stilt walkers, artists, musicians and activities from 10 am 7 pm.
"We at BTC look at this as not merely a new store, but the beginning of a new chapter in BTC history, a chapter in which the way we communicate, engage with each other socially, handle business and banking transactions changes" said BTC CEO Geoff Houston. "At BTC our vision is to create powerful connections and inspire meaningful change for the betterment of The Bahamas and this evening we think we are doing just that for this is not just about a store. It is about making a way of life easier, more convenient, simply better."
The launch of 4G follows a $43 million capital expenditure in the network and a $55 million investment in NGN, the platform which boosts all of the nation's telecoms capabilities.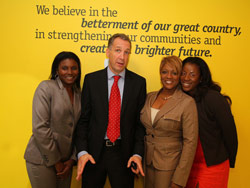 "This is the beginning of our leap into 4G, a leap that redefines the mobile experience in the country. In a matter of moments, the speed with which we communicate and the efficiency and reliability of our internet service will be catapulted to lightning fast speeds. This puts Nassau on a par with the most advanced telecommunications networks in the world."
Houston said the transition had caused some recent interruption in cell service, but said BTC had to convert to a totally new platform while trying to keep the old one alive. "For us, it was a little like performing open heart surgery while the patient was walking around."
The completed transition, he said, put Nassau on par with places like Hong Kong, central Europe, the U.K. and "ahead of many areas of the United States of America."
While 4G took centre stage for long-term change, the appearance of the store stole the show. It, too, had to be transformed while a section remained open for business.
With a $500,000 transformation that included a huge expansion, the 6,500 square foot store that now sets the stage for the BTC retail experience features a massive  Junkanoo mural by well-known artist Anthony 'Big Mo' Morley who was on hand to sign it during the ceremony. BTC's new branding — dynamic, organic flowing waves in Bahamian colours — is carried out throughout and melded with dark blue, bold blue, yellow and other brightly-coloured walls and high intensity drop lighting and chandeliers.
Smart floor to ceiling leaning columns lend a chic and tony look with waist-high circular shelves serving as two of the many kiosks for interactive experiences. Every model wireless phone and electronic tablet is live, connected with useable apps so customers can explore a wide range of downloads, products and services, discuss packages, sign up for service, have a new handset turned on or conduct any other business from a single location. BTC's marketing team describes it as "the solutions store" where a salesperson discusses individual or business needs and finds the best solution to meet those needs within a suitable financial package.
The Nassau store is the first of 50 planned for throughout the country with another opening scheduled for December 12 in Grand Bahama when the major population centres of that island will experience 4G. Complete penetration of high-speed mobile and internet service in the Family Islands is slated for mid-2012. And Houston said the extensive retail footprint will create numerous entrepreneurial opportunities for Bahamians.
The Golden Girls, Debbie Ferguson-McKenzie, Eldece Clarke and Pauline Davis-Thompson, Olympic gold medal winners in the 4×100 relay in the 2000 Olympics in Sydney, were on hand for the event and will represent the lightning fast speed of 4G as the campaign unfolds.