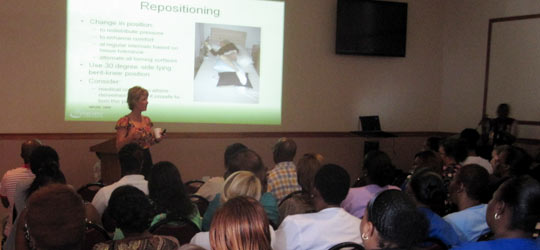 Local medical supplier and Medline distributor Ports International Limited recently hosted an Advanced Skin and Wound Care Seminar for local healthcare workers. Statistics show a tremendous need for wound care treatment. Each year, millions of people will suffer from problem wounds caused by diabetes, circulatory problems and many other conditions.
Patients with diabetes have a 15-fold increase in the risk of amputation, and 15% of all diabetics will develop problem wounds. Approximately 100 amputations are performed annually here in the Bahamas. But there is hope. Studies have shown that effective wound care treatments have reduced amputation rates and the length of hospital stays.
Medline Industries Clinical Education Specialist Kim M. Kehoe, BSN, RN, CWOCN, DAPWCA presented an informative education session to local clinicians on the "Skin and Wound Care Current Management Concepts". Kehoe is a Board Certified Wound, Ostomy and Continence Nurse with expertise in Patient Care Services utilizing over 26 years of Nursing knowledge and clinical experience.
There were over 80 persons in attendance for the sessions which included topics on Prevention: Treatment to Keep the Skin Healthy, followed by Skin and Wound Assessment, Topical Treatment and Interventions, Wound Bed Preparation, and then Lower Extremity Assessment and Management.
The importance of wound care education and prevention is critical in reducing the incidence of patients acquiring pressure ulcers in hospitals, reducing the cost of treating a pressure ulcer/bedsore in a hospital, reducing the direct costs for wound care, reducing litigation costs as well as other costs associated with the complications of immobility such as falls, DVT, UTI, and Pneumonia.
Chronic wounds constitute a debilitating health care problem with significant clinical and social implications. Annual wound care costs are growing at 10% per year. The cost for these patients can be reduced dramatically by altering the wound care paradigm and focusing on education, treatment and prevention
Ports International