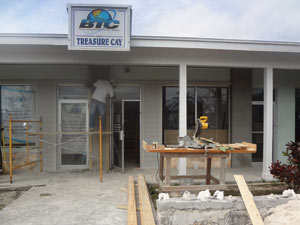 In a ceremony without great fanfare but with great expectations for the results, BTC executives will cut the ribbon and open the door of the company's latest achievement — a bustling location in Treasure Cay, Abaco, that will open March 22 following a major overhaul, emerging larger and with a sophisticated, bright new look and feel.
The Abaco store is the latest in a string of rebuilds and re-openings that are redefining the retail footprint of BTC, converting often outdated bill payment and service centres into cheerful, interactive spaces with a slew of products and plans available for experiment and instant connection.
Like others that came before and those following close behind, Treasure Cay's interior will be defined by its artwork, a wall-length mural depicting a Treasure Cay beach scene with two of the island's best-known living features — the wild horses of Abaco and the colourful Abaco parrot. Artwork was created by Bahamian Zyandric Jones. If there is a difference between Treasure Cay and most of the other locations, it is in the customer base — almost entirely residential with heavy ex-pat traffic from the marina and winter residents.
The pace of transformation that began with the Mall at Marathon celebration in December is so fast that BTC is opening its next four stores in seven days, two in New Providence, one in George Town, Exuma and the smallest one — about 800 square feet after expansion — in Treasure Cay. Another is on tap for Marsh Harbour, Abaco. Other renovations started this week in Eleuthera where there will be four stores.
And officials said they are finalizing details on the first franchise which is expected to be announced shortly.
The largest of the new renovations is the one set for George and Bay Streets in Nassau where workmen  have had to perform demolition with jackhammers and other heavy equipment after regular business hours because of neighbouring tenants. The ribbon will be cut during an official ceremony at the new Bay Street store March 30 with a huge street party for the general public the next day.
With full-blown competition at its back, BTC is pouring on the speed, living up to the pledge made when the company was privatized less than a year ago that it would open 50 stores by 2012 year-end while paying tribute in each to local culture and art.
According to Bob Gill, BTC Retail Lead, who has served as project manager for the retail expansion, often working up to three sites in a day, sometimes on two or more islands, the company is meeting its budgeted targets.
"It has taken tremendous coordination and cooperation, but although we started later than we originally planned, we are on schedule and within budget," said Gill, dashing between airports and the second of three flights today.
BTC launched its 4G network introducing faster speeds for downloads and data on broadband and wireless and better connectivity when it opened the Mall at Marathon store following a $500,000 makeover that transformed office and administrative space into a vibrant, branded retail experience. That store has exceeded budgeted returns and the company is investing another $750,000 in renovations of the four stores set to open between March 23 and March 30.
"What makes this especially notable,"" said Gill, "is that we have been able to meet our deadlines and keep our promises despite the challenges — and surprises — of specific sites like finding all the uneven floor levels at Bay and George Street and the other competing demands on engineering and technical crew. In each location on each island, we have been able to find skilled electricians, air-conditioning technicians, carpenters, tile layers, masons. Wherever we have been able to, we have employed local workmen and artisans and the response has been more than satisfactory." Gill estimated that the various jobs underway at any given time have provided work for up to 100 people and the larger retail stores are prompting the hiring of additional staff.
Diane Phillips & Associates