Silver Airways To Operate New Aircraft
March 30, 2012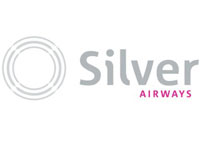 Silver Airways announced that it has received approval from the United States Federal Aviation Administration (FAA) to operate Saab 340Bplus aircraft.  The Fort Lauderdale-based airline initiated scheduled passenger service utilizing the new aircraft type March 29, 2012, along its Florida-Bahamas route network.
"This is a momentous day for our airline, and one that will certainly be celebrated by our employees and passengers – many who were pleasantly surprised today as they boarded our new, enhanced aircraft," said Darrell Richardson, CEO of Silver Airways.  "We are committed to providing our customers with the highest-quality flight experiences by delivering premium service and the comfort and convenience they value and deserve."
Silver Airways has secured agreements with Saab Aircraft Leasing to purchase 12 Saab 340Bplus aircraft.  The airline has accepted delivery of the first three to date, with the remaining aircraft expected to complete integration into the Silver Airways fleet by September 2012.
Each Saab 340Bplus features comfortable seating for 34 passengers, large, easy-to-access overhead bins, personalized flight attendant service, an active noise reduction system and on-board lavatories. The new aircraft will be used to upgrade service on existing routes, increase frequencies and allow Silver Airways to add new service in additional markets.
For reservations and more information on Silver Airways, visit www.gosilver.com.
About Silver Airways
Silver Airways Corp. (IATA: 3M) is a U.S. airline operating more than 100 daily scheduled flights to/from 29 gateways in Florida, The Bahamas, Montana, Ohio, New York, Pennsylvania and West Virginia.  The company is owned by Victory Park Capital, a Chicago-based investment firm.
Silver Airways is headquartered in Fort Lauderdale, FL with a new, state-of-the-art 61,000 square-foot maintenance facility based at Gainesville Regional Airport (GNV).  The airline operates under a principal code share and alliance agreement with United Airlines and Copa Airlines.  The Silver Airways fleet is comprised of three Saab 340Bplus aircraft (maximum seating capacity: 34 passengers) and 21 Beechcraft 1900D aircraft (maximum seating capacity: 19 passengers), each powered by reliable, fuel-efficient turbine engines.  Silver Airways will integrate a total of 12 Saab 340Bplus aircraft into its fleet by September 2012.
—-
"Get Toast-*ED*!" New Providence Branch of Toastmasters Club 3596 hosts Educational forum about program
NASSAU, Bahamas – The Toastmasters program is one well-heard of throughout the country, known for its selection of orators and leaders. Local Club 3596 has been a long-standing member of this influential international body and hopes to continue to spread the word about the offerings and appeal of this dynamic program. "We want to reach more people to tell them about the program," says President Damien K.T. Miller, "and also educate those already interested in membership."
With that in mind, the Club has planned an educational forum that will cover all basis and touch on everything that everyone ever wanted to know about Toastmasters. There will be information about the various communication and leadership tracks, information about how to join, the various roles and responsibilities, as well as testimonials from current members about the benefit of becoming a Toastmaster. But the day won't be all about business. Fun, interactive activities will also be incorporated to ensure persons get a true, first-hand feel of what it's like to be a Toastmaster and a member of Club 3596. "It's an all-encompassing forum," explains Educational Vice President, Tiffany Johnson. "We're going to touch all basis and also keep it interesting to ensure people see the value and the benefits and are willing to take advantage of the opportunities."
The educational forum entitled "Get Toast-ED!" will be held this coming *Saturday, March 31, 2012 at C.V. Bethel Senior High from 8:30am-12pm*. There is no charge and all eligible persons (age 18 and older) are invited to attend. For more information, contact Mr. Damien Miller at 324-0993 or Ana-Alicia Burrows at 565-7035.
The New Providence Branch of Toastmasters Club 3596 is affiliated with Toastmasters International, a program geared towards improving communication and leadership skills. The Club meets every Monday, save for Public Holidays, 6:30pm-8:30pm at The Cancer Society of The Bahamas.