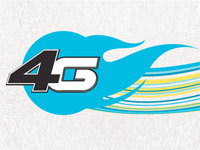 One week after some 200 people celebrated the opening of BTC's new retail experience store in George Town, Exuma, the company said it had more good news for the Family Island in the central Bahamas — it is previewing the 4G network on the island and regatta-goers will be among the first to feel the speed.
"We are happy to tell the Exuma community and regatta goers who will be in the corridor between the Exuma Airport and George Town that they will have access to the six 4G cell sites that are now operational along that corridor. Customers will note though that this is just a preview and the sites are still being tested and tweaked as we roll out the 4G network across the entire island of Great Exuma," said Marlon Johnson, VP of Brand & Communications.
"Our engineers are working steadily to get the service fully up and live during the 59th Annual National Family Island Regatta so those on shore following the races and enjoying the festivities can e-mail, download, take and send video and photos, text and connect faster than ever with the highest possible speed for wireless communications, 4G."
BTC introduced 4G in New Providence with all 44 cell sites live in December, in Grand Bahama later that month, and is moving throughout the islands with the high-speed wireless service, compressing what had been intended as a 3-year project to one year. Work is finished in parts of Abaco. Bimini and the Berry Islands are on tap to go live with 4G next week. When the 4G roll-out is complete by late summer, The Bahamas will be one of only a handful of countries worldwide to be completely blanketed by 4G.
Thousands are expected to crowd the George Town area this week for the regatta that BTC is helping to sponsor.