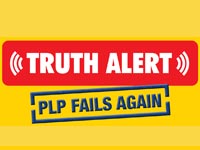 The Claim:  The PLP claim that the FNM has done nothing to fight crime and that they have a plan to fight crime.
The Truth: The PLP talks about fighting crime but when given the opportunity, fail to act. Prior to the 2002 election, the FNM government had conducted extensive research, which demonstrated the benefits of CCTV such as assistance in crime deterrence and detection and a key element in providing evidence to law enforcement and the courts. Despite having an immediately available tool to fight crime, the PLP couldn't be bothered to implement this plan and ignored it even at the urging of senior police officials.  Also prior to 2002 the FNM introduced community policing for the first time in the modern Bahamas.
While the PLP talked about building criminal trial courts and working with U.S. law enforcement to support crime prevention efforts, they failed to produce results on any of these promises.
The FNM was the party that did the heavy lifting, using every available resource to fight this complex social issue. The efforts are starting to pay off as evidenced by the recently reported  6% reduction in the overall crime rate. More remains to be done and the FNM government has the plan and resources in place to effectively tackle the issue of crime starting with education, socialization and prevention, and all the way to rehabilitation.
Crime fighting measures of the current term include:
* Securing a contract for Closed Circuit TV (CCTV) monitoring to prevent and reduce crime Implemented stronger witness protection measures
* Introducing electronic monitoring of serious offenders granted bail by the courts
* Amending and enacting a total of 11 pieces of anti-crime legislation to strengthen the hand of law enforcement against the criminal element
* Recruiting 434 new constables to "walk the beat" in neighbourhoods
* Appointing more Magistrates, Supreme Court Justices and Court of Appeal Judges and increased the number of court rooms to facilitate speedier trials throughout the country
* Reforming and equipping the RBPF and adding 90 new recruits just this month
Still lacking a plan to fight crime, the PLP Charter for Governance simply promises the country that "we will immediately introduce a National Crime Management Agenda for the effective management and control of crime."