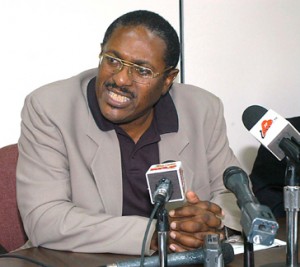 Progressive Liberal Party (PLP) Chairman Bradley Roberts refuted comments made by Prime Minister Hubert Ingraham that a PLP event was canceled because of poor attendance.
The PLP planned to hold a live town hall event at the Wyndham Nassau Resort on Wednesday night, but canceled it.
"Remember how I told you that the PLP is the party of 'delivery failed'," said Ingraham at a mass rally on Thursday.
"Last night (Wednesday), they failed to deliver big time. They booked two ballrooms at the Wyndham hotel in Cable Beach. They booked ZNS for a live town hall meeting to broadcast from the ballrooms.
"It was a spectacular failure and 'buss-up'.
"The lights were there, the cameras were there. [PLP Leader] Perry Christie was there, [PLP Deputy Leader Philip] Brave Davis was there, Bradley [Roberts] was there, Jerome Fitzgerald and Paulette Zonicle were there and so was Julian Reid making up a total audience and cast of [fewer] than 20.
"It was all about profiling for the cameras, but there was no action.
"They had to scrap the event. Truth is there is never any action from the PLP.
"I hear Christie was vex and 'cussing' up a storm. He was all geared up to talk to the nation on crime and the economy. They booked ZNS for two hours, you know. They were going to have a big panel discussion on securing our borders – town hall style.
"He asked what happened. I could tell him what happened. Everything was 'buss-up' because nobody's in charge in the PLP. Too many cooks stirring the pot, no head cook."
However, Roberts said the prime minister's information was incorrect.
According to Roberts, the party canceled because it felt its event would generate too much noise, disturbing an event next door.
He told The Nassau Guardian that the meeting was supposed to be a private function broadcast on ZNS. "The event was intended to be a call-in forum," Roberts said.
"The parties concerned were there, waiting to get rolling with the event. Only we discovered that next door a concert was going on. The noise would have made it impossible for such a show to continue."
He also pointed out that the guests who were invited showed up to the forum.
Travis Cartwright-Carroll
The Nassau Guardian
Published April 21, 2012