Christie: 43,000 Jobs Needed, PLP Has A Plan
May 16, 2012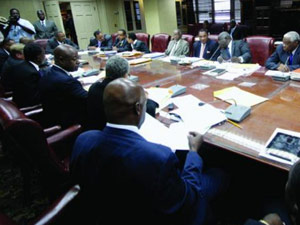 Prime Minister Perry Christie said yesterday the country needs 43,000 new jobs to reduce the record unemployment levels.
Christie previously said the country needed 30,000 new jobs over the next three to four years, though he never committed to creating that number of jobs.
"If I had to quantify the jobs, it now appears 43,000 Bahamians are unemployed," he told reporters outside the Cabinet Office.
"The country obviously needs to be in a position where we begin a national conversation on how we are going to go about sourcing those jobs, [and] where they're going to come from. That's what this whole process is about."
According to the Department of Statistics, unemployment in The Bahamas was 15.9 percent at the time the last survey was conducted in November 2011.
It was 21.2 percent in Grand Bahama.
In its charter, the Progressive Liberal Party says it created 22,000 jobs in its last term in office (2002-2007) and committed to surpassing that figure over the next five years.
According to the document, the PLP's job creation plan will be anchored in four areas:
effective promotion of The Bahamas at home and abroad;
the removal of impediments to business so that government facilitates the growth of business;
increasing opportunities to dramatically expand the role of Bahamians as employers
the government as a direct investor in carefully defined circumstances.
Christie said it is important that his government be given an opportunity to achieve those goals.
"We set out a path to doing those sorts of things and we are going to follow the path that we set out and we are going to let the country follow with us as we go along and proceed," he said. "We have to protect our country and therefore we have to find innovative ways to create jobs to get Bahamians back home to give them a sense of belonging in their own country.
"So we have a comprehensive program that we are going to initiate and the challenges are formidable, but we are up to the challenge."
The Nassau Guardian