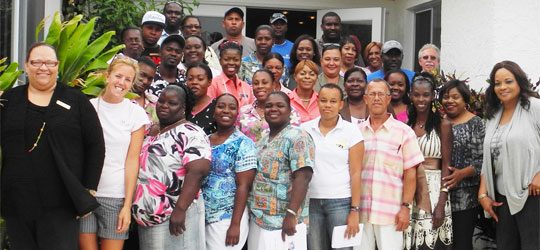 The Bahamas Hotel Association of Human Resources Professionals (BHAHRP) in collaboration with the Bahamas Hotel Association and the Ministry of Tourism recently hosted the A.R.T. of Customer C.A.R.E. Workshops for 43 small hotel and tourism industry professionals on Long Island.
The first session was held at the Stella Maris Resort and according to  Karen Sutherland, BHAHRP Secretary and one of the workshop facilitators ," the objectives of the session were to identify qualities and characteristics of customer service, identify  behaviors that build commitment to the delivery of high quality personalized service and also how to build customer loyalty."
The interactive sessions allowed employees to practice how to effectively communicate with guests and focused on how to give exceptional service through the skills of Attention, Respect and Time.
The second session was held at the Resource Centre in Gray's and according to President of the Bahamas Out Islands Promotion Board  and attendee Shavonne Darville, "We are appreciative of the partnership between BHAHRP, MOT and the BHA as training on how we engage and connect with our guests is essential to the growth and development of our tourism product in our Family Islands."
The BHAHRP launched the Family Island training initiative in April, 2012 which will continue over the next few months on other major Family Islands. "In early January the BHAHRP Executive team formed a Family Island Outreach Committee in support of our strategic plans for supporting the BHA small family island hotel initiatives and based on the feedback over the past few days the training was well received and timely,'' Beverly Saunders, BHAHRP Past President and workshop presenter.
BHA President Stuart Bowe applauded the initiative stating "Tameka Forbes, President of BHAHRP  and her team are to be commended for recognizing the importance of developing sound customer service skills by industry professionals throughout our country.  Often our small hotels don't have easy and affordable access to expertise who can deliver this high level of training.  This collaborative effort demonstrates how we can pull our resources together to help make an on-the-ground difference".
Participants included attendees from Gems of Paradise Resort, Ellen's Inn, Stella Maris Resort, Cape Santa Maria Resort, Southern Air, Pineapple Air and  Winterhaven Resort.
"I enjoyed the session immensely," Olivia Turnquest operator of Ellen's Inn,"  As small hotel operators we need to make sure we stay up to date on industry service trends and the Art of Customer Care which can help me and my team improve our guests experience."