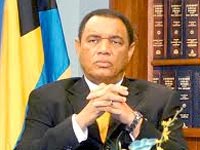 With this, the first Budget of the new mandate with which the Bahamian people have entrusted my Government, we launch our programme to transform the Bahamian economy and society for the benefit of all Bahamians. The key policy thrusts of the 2012/13 Budget are faithful to the major themes that we enunciated in both our Charter for Governance and last week's Speech from the Throne.
I would like to state at the very outset of this Communication that we do not propose to increase any taxes on Bahamians in this Budget.
This Budget unequivocally sets us on the course of change that we pledged to initiate and pursue with diligence and dedication. However, in light of the very short time since our return to Government, this Budget is but the very first step in that process.
Read the full Budget Communication